Starting a private practice in counseling requires not only clinical experience but essential tools that will help counselors or therapists launch a private practice and run it smoothly. A business plan, office space, communication, record keeping, billing, forms, procedures and more are all necessary when starting a private practice in counseling.
At least you're on your way with the first few steps of starting a private practice in counseling – you're licensed and you've done your homework and asked the important questions. You're feeling ready to take on the private practice world. Clinical knowledge is, of course, the foundation of private practice in counseling. After all, you're a clinician and people will seek your clinical expertise. But, beyond clinical knowledge, starting a private practice in counseling requires some essential tools.
Watch the video below to learn about common pain points in private practice and TheraPlatform's solutions.
Start your free trial
How's your toolbox looking?

Your business plan for starting a private practice in counseling
Every business, including a private practice in counseling, needs a plan or roadmap that guides you as you establish and grow.
Your plan will keep you on track and define:
What kind of tools and processes you need
Your vision and mission statement
Your spending with the goal of preventing you from using precious resources on things you really don't need

On the administrative business side, you'll need to research business entities to determine which is best for your counseling private practice. Determine if an LLC is best to create a legal separation between your business and you as an individual. You'll also need an Employee Identification Number and a National Provider Identifier when starting a private practice in counseling.

Your office space

The first thing you have to decide for your private practice in counseling is where clients will see you. It might be in an office setting. You might be an in-home therapist. You may opt to provide telemental health services. Each of these services requires a different setting and setup.
A brick-and-mortar office, for example, requires a private room in which to meet, a waiting area and restrooms. Also consider the location in terms of convenience. For example, can clients easily access your office from freeways? How's the parking? In-home therapy requires a way to take your "office" with you. Telemental health services require a secure platform. Also, think about the type of clients you can reach with telemental health services. They may be in rural areas or may have limited mobility. Are they worried about the stigma associated with in-office therapy? It's good to understand the nuances of potential telehealth clients to fully optimize treatment options when starting a private practice in counseling.
Planning to offer different options? You may then need multiple spaces, and processes.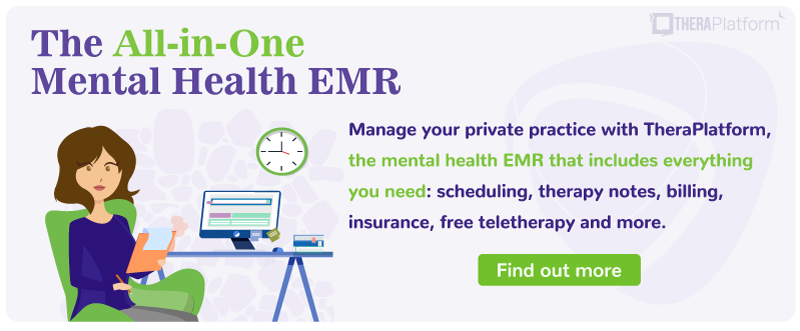 Communications

Establishing excellent communication habits with a client helps build the clinician-client relationship. How will you communicate with your clients? Phone? Email? Text? Client portal? Sounds easy enough, right? Well, not so fast. Client communications are required to be HIPAA secure. Standard texting and email aren't secure enough and you'll need to find apps or services that are compliant.
And, if you're a telemental health provider, how will you connect with your clients? How will you get documents signed? Cell phone service is not secure. Facetime and Skype are not secure. You'll need a way to share and sign documents as well as communicate with your clients that these exchanges are HIPAA secure. When starting a private practice in counseling, you may need a document signing service for your private practice in counseling or consider an EMR with this function (e.g. TheraPlatform).
Record Keeping

Keeping accurate records is a necessity. Have you thought about how you will keep your session notes (e.g. SOAP notes, treatment plans, etc.), releases, consent forms and other relevant client data? Historically, we all used paper and had tons of paperwork to store in file cabinets galore. And, with the retention requirements, you may be housing these records for many years. Some practitioners still do it this way and it works for them.
More and more, though, when starting a private practice in counseling, many clinicians are moving to electronic records systems. These systems allow you to store your client information securely and electronically, eliminating the need for paper. Some only manage records. Others, however, do more than one thing. (Hint: This is a good thing.) Some also have billing functions, document sharing, video capabilities for telehealth and more. Not all platforms are created equally, though, and not all are designed for the unique needs of mental health practitioners. Shop wisely. Theraplatform, for example offers all of the above functions in one system.

Billing
Like with any other practice function that involves Protected Health Information (PHI), your billing procedures and tools must be HIPAA secure and compliant. Your software, your bookkeeping, even your biller, if you choose an external biller, has to maintain the privacy and security of your clients' information. With all this preparation for practice, don't forget – you also need a way to get paid. You will need a process for submitting claims or, if you're not billing insurance, a way to provide clients with Superbills and invoices.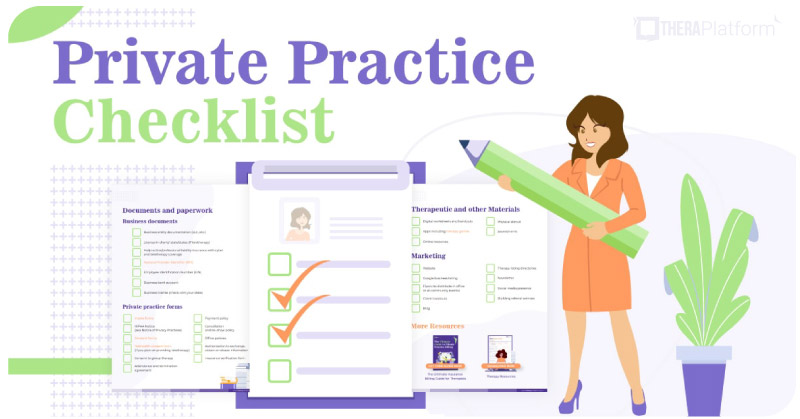 Consider insurance provider panels

Credentialing, or applying to become a member of an insurance panel opens up a whole source of clients to a therapist when starting a private practice in counseling. While some clients can pay out-of-pocket for therapy, most need insurance to afford the costs. Working-class communities, for example, generally rely on insurance. As a member of an insurance panel, every person who has that insurance will see you listed as a possible therapist, which exposes you to a nice-sized client base. Ask other providers in your industry which panels they consider the best and apply. Don't rush and don't sign up for them all. The credentialing process is time-consuming, frustrating and competitive, but worth it especially if you approach credentialing with a plan.
Start 30-day Free Trial and explore TheraPlatform. HIPAA Compliant Video and Practice Management Software for Therapists.
Forms and procedures
If all this "stuff" isn't enough, you also have to think about how you will gather and manage information. Again, whatever you choose has to be in compliance with HIPAA and maintain your clients' rights and confidentiality.
Developing
forms
and procedures can be time-consuming. You might think of defaulting to a generic Internet form or consider paying someone.
You could, but ask yourself a few questions first.
Are those generic forms HIPAA compliant?
Do they adhere to your state's or board's requirements?
Do they gather the information you need?
Are they in the public domain or are you taking someone else's work?
What about custom forms? They may be made-for-you but at what cost? New practitioners don't often have the resources for a lot of customized tools.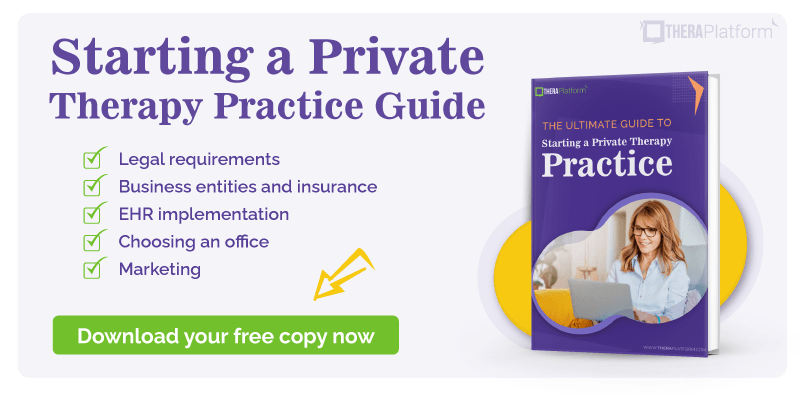 Forms needed for counseling private practice
Intake forms
HIPAA Notice (aka Notice of Privacy Practices)
Consent for services
Telehealth consent form (if you plan on providing teletherapy)
Consent to group therapy
Attendance and termination agreement
Payment policy
Cancellation and no-show policy
Office policies
Authorization to exchange, obtain or release information
Insurance verification form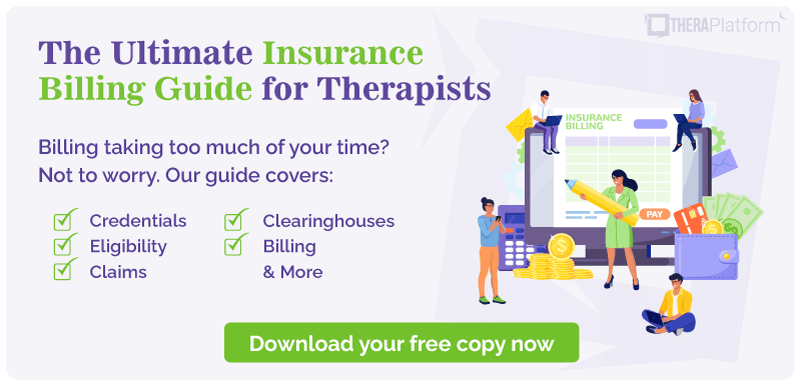 Marketing your counseling private practice
Although the idea of marketing counseling services is distasteful to some, the reality is you can't provide counseling if you don't get people in the door. Fortunately, getting clients for your private practice is not as difficult as it may seem. When starting a private practice in counseling, consider:
Your niche: Who do you want to target? People with borderline personality disorder, for example.
What makes you unique: Do you offer crisis counseling or telehealth services?
Your website: Websites are a must when starting a private practice in counseling. You'll need a domain name and someone to build it (or maybe you can do it yourself.) Also, think about the content for the site. Remember to add your location, your services, and whether you take insurance. If you have time, write a blog. You've likely already developed a great deal of knowledge around certain topics that the public is curious about.
Social media: Find the balance between marketing and confidentiality on business pages through sites like LinkedIn and Facebook.
Old school networking: Yup, even today, doing presentations for community groups and reaching out to other therapists and doctors is still a good way to build a client base.
Basic supplies and services
One of the factors clinicians often forget is the expense of outfitting an office for its day-to-day operation.
It's all those things we often overlook along with the necessary security to conduct business:
A computer
A printer
Phone services
Potentially a fax machine or at least fax capabilities.
Additionally, you'll need to consider:
Filing your LLC
EMR software
Hosting and building a website
Factor all of these costs (potentially along with rent for office space and standards like paper, pens and staples) when starting a private practice in counseling.
Therapeutic Materials
And last, but certainly not least, how can you engage clients to help them have the best outcomes possible? Will you pay for them? Develop your own?
Therapeutic materials are:
Digital worksheets and handouts
Apps including therapy games
Online resources
Physical stimuli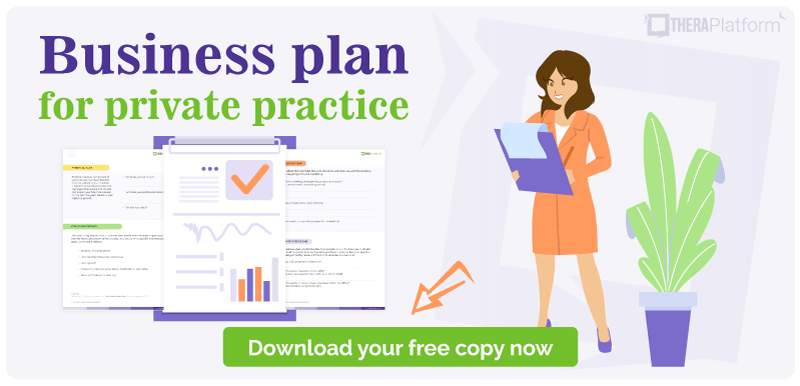 So what's a new practitioner to do?
Savvy practitioners look for integration when starting a private practice in counseling. In the practice world, it means finding systems that can serve more than one purpose. For example, why have a separate electronic medical records system, a separate billing/claims system, a separate client communication/telehealth platform and a ton of paper consent forms. Are they integrated? Probably not. This means you (or your staff) can spend literally hours going from one system to the next just to keep a client's file current. Although, some of these tools may be "free" or "low cost," are they really? As they say, time is money especially in a fee-for-service business.
Integrated systems help you work smarter and not harder. Integrated systems can combine electronic records, billing capabilities, secure messaging, video-conferencing and more. Some, like TheraPlatform, even have a library of customizable form templates to help you find just the right form for your practice needs.
TheraPlatform is a fully secure and HIPAA-compliant, integrated platform designed with therapists starting a private practice in counseling in mind. TheraPlatform offers a full array of services and resources for every type of practice. Features include scheduling, documentation, paperless intake and consent forms, billing with invoicing, credit card processing and superbills, e-claim, HIPAA-compliant video conferencing, teaching tools and a client portal.
TheraPlatform offers a free trial so you can experience the difference full integration can make. No credit card required. Cancel anytime.
More resources