Therapy office can sell or not sell your private practice and it is one of the most important aspects of starting a therapy private practice. There are multiple choices you will need to make that will impact the success of your venture. One of the first—and most important—decisions involve your office space. Here are some considerations when trying to find the therapy office space that best fits the needs of your private practice.
Renting

If starting a private practice for the first time, it is advisable to rent. The only time you would want to buy your own space is if you were looking to fortify an already established therapy practice. There are many renting options. You can sublet part-time from a renter, rent your own office full-time, or rent a whole suite if you'd like. Starting out, you might want to sublet part-time until you see how you do and exactly what you require. Consider it a tryout.

How much space do I need?

While many therapists would be looking to rent or sublet a single therapy office for individual therapy, your particular therapy private practice may have needs beyond that. Do you need a bigger space for group treatment? Do you want to rent a couple of offices because you plan to bring someone else aboard? Keep in mind present and future requirements when choosing an office size and design.

Should I use a real estate agent?

You probably don't need to use a real estate agent to find office space but you may want one anyway. With the advent of the internet, it is possible to find a space all on your own. Unfortunately, that will take up time and effort. If you are busy enough that it is prohibitive to take the necessary time to find a suitable office it can't hurt to turn to an expert.

Have an attorney review your lease

This is non-negotiable. You must have a lawyer review your lease for your therapy office space. Not only may they help you save some money, but you also have to make sure the lease is fair and will not cause you unnecessary legal problems down the road.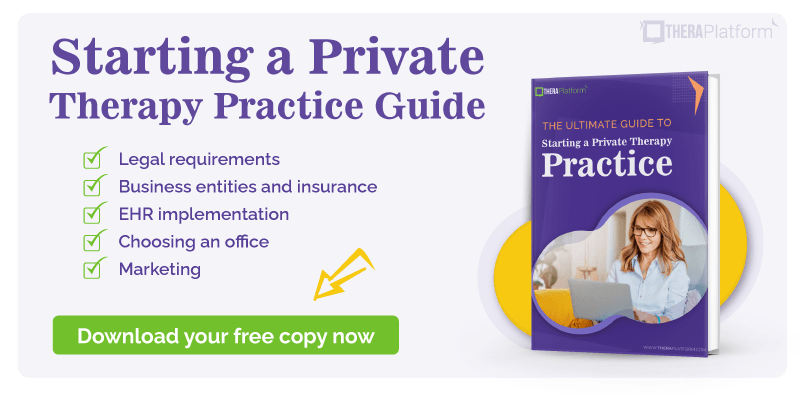 Budget your money and spend accordingly
Speaking of saving money, you need to make a budget and stick to it. A good tip is to rent a space that is a bit less than the maximum you can afford. There are always going to be unforeseen costs and it helps to have some wiggle room. Keep in mind, there are many choices you can make that will affect how much money you spend on office space. For example, do you really need a kitchen or a separate room for play therapy? Is there furniture included or will you need to pay extra for that? It is best not to spend too extravagantly, especially before you are making money. Costs will add up quickly.
Beware of triple net (NNN)
Triple net or NNN is a clause in a rental contract that makes you responsible for property taxes, property insurance, and common area maintenance (CAM). These costs are in addition to the base rent. This may make the lease less expensive but it can also add significantly to your monthly expenditures. If your building is older, for instance, you may have some hefty maintenance costs. Everything in a rental agreement is up for negotiation so it can't hurt to ask for a triple net limit. In the end, you may have no choice but to accept this type of lease but you at least should be aware of how it will impact your budget.
Negotiate renewals up front
Once you have established a practice therapy practice in a certain location you probably don't want to move it. You will have built up a client base in that location and your business may suffer if you move to another area or office building. Of course, landlords are aware of this and it provides them with the leverage to increase your rent when you try to renew a lease at the end of the contract. A good way to avoid getting gouged is to negotiate the terms of renewal when you first sign your lease.
Where should my office be located?
The location of your therapy office is critical to your success.
Start 30-day Free Trial and explore TheraPlatform. HIPAA Compliant Video and Practice Management Software for Therapists.
Some aspects to consider:
Is it a safe area?

Clients that come to therapy are already emotionally vulnerable. The last thing they need is having to worry about their physical safety. Bottom line: people will not come to an area where they feel unsafe.

Are there other therapists in the area?

It will be difficult to establish and grow a private practice if there is a lot of competition in the area. You probably want to avoid an area that is saturated with therapists, especially if they focus on the same issues. Marketing your private practice in the area with many competing practices may be a bit challenging.

Does it have parking and/or is it accessible to public transportation?

People will not come to your therapy office if it is inconvenient and/or hard to reach. An office that has suitable parking and is near public transportation is most attractive to prospective clients. At the very least, you need to have one or the other. Convenience is crucial when you consider that some clients may be hesitant to attend therapy in the first place.

Building issues

If the building is not conducive to therapy—or when you want to work—it can break your practice.

Heat and electricity

Believe it or not, some buildings shut down their utilities during the evening and on weekends. If you plan to see clients during off-hours you need to make sure the heat and electricity are operating.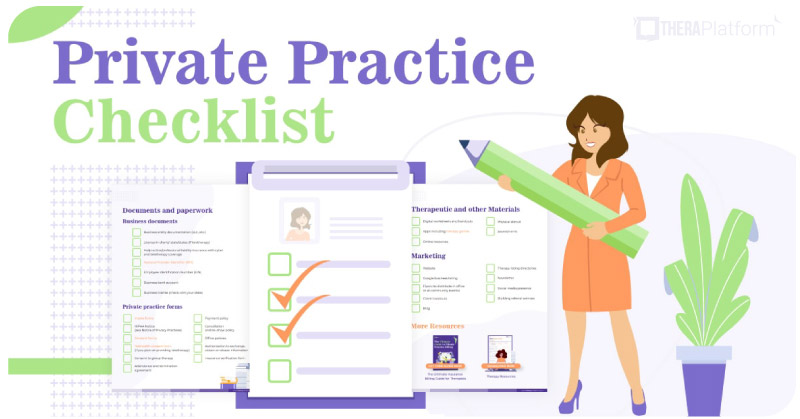 Client access
Is your building handicap accessible? Do you cater to clients who need easy access? You may, for instance, see a lot of geriatric clients with mobility issues. Further, some buildings are not "open" during off-hours. For example, there may be a security code to enter or the elevators may not operate. You need to make sure your clients can gain access to the building when you are working.
Get to know your office
Let's say you visit a potential office space during the morning and it seems great. So, you sign the lease and start practicing therapy. The first time you are working in the afternoon, however, the neighbors become very noisy and you can't hear yourself speak. In addition, the smells from the restaurant downstairs are overpowering and it is difficult to concentrate. What's more, the sun is glaring and you have to close the blinds to prevent cornea damage. Moral of the story: visit the office at different times of the day and week to make sure it meets your expectations.
In addition to therapy office, therapists starting their own private practice may need EMR to help them schedule, communicate securely with clients, bill, write therapy notes, etc.
TheraPlatform
is here to help with this aspect of your private practice.
TheraPlatform offers All-in One Solutions with EMR; scheduling; billing; insurance claim; documenting, and even built in telehealth with no additional cost. Try TheraPlatform for free for 30 days today. No credit card is required.