Counseling treatment plans serve a valuable purpose – helping clients and practitioners (and insurance companies) understand the course of treatment. But how do you create one and what do you need to include? Better yet, what do you need to know to produce one that will actually help your client? Let's take a closer look at the features of a counseling treatment plan.
What is a counseling treatment plan?
A treatment plan is a road map for a client's treatment. Just by looking at one, you should be able to tell why the client is in treatment and how the clinician is proposing to treat them.
Although counseling treatment plans may vary according to the practitioner, almost all of them contain the following components:
1) Background Information, including psychological history and demographics
2) An assessment of the current mental health problem, including diagnosis
3) Treatment goals
4) Treatment objectives (i.e., specific tasks to accomplish to help you reach your goals)
5) Proposed interventions and a timeline for each
6) An area for tracking progress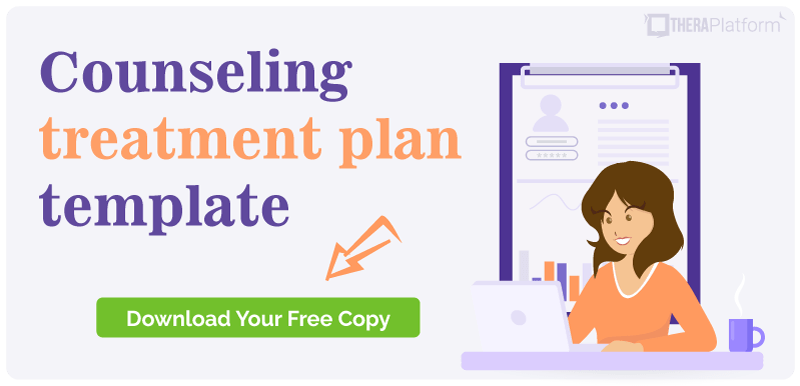 Why do we need treatment plans?
The aim of a counseling treatment plan is twofold:
1) Present a guide for the client to reach their goals. Clients should be involved with their treatment plans. They need to be aware of their goals and objectives and the expected timeline of their progress. This lets them know what they are working on and what they need to do to get there.
2) Assist clinicians in staying on track. Therapy and consultation can go off the rails if you don't have a clear direction. Counseling treatment plans keep the practitioners focused on the endgame. They provide a structure that is necessary for therapists and their clients. Additionally, they help the therapist monitor client progress and make adjustments when necessary.

Types of Counseling Treatment Plans
Counseling treatment plans are tailored to the individual client's needs but the interventions used will depend on the therapist's theoretical orientation. As a result, you can have very different looking treatment plans for clients with similar problems.
The following are common types of counseling treatment plans:
Cognitive-behavioral
A cognitive-behavioral treatment plan will use a CBT framework for both assessment and intervention. As such, interventions will use CBT techniques to help the client eliminate harmful distorted thoughts and increase adaptive behavior. Dialectical-behavioral therapy (DBT) and acceptance and commitment therapy (ACT) fall under the basic framework of a cognitive-behavioral treatment plan.

Psychodynamic
A psychodynamic treatment plan will focus on finding the underlying reasons behind problem behavior and emotions. Unlike a cognitive-behavioral plan, it will concentrate more on interventions aimed to improve relationships and help figure out how a client's upbringing has led to their present-day troubles. Interpersonal and humanistic therapy is often included under the psychodynamic umbrella.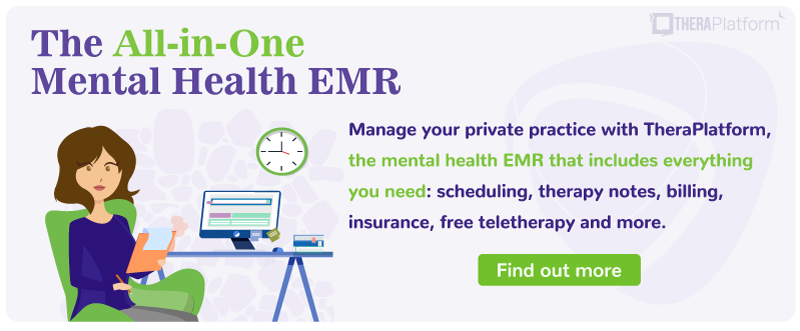 Blended
A blended treatment plan is not so much based upon a specific orientation as it is on the types of interventions used. Hastened by COVID-19, psychotherapy has been transformed by technology in the past five years. People now receive therapeutic services through video calls and text, as well as in person. Additionally, there are all sorts of internet resources that can be used as an adjunct to traditional therapy sessions, such as digital exercises and assessments. A blended therapy uses a combination of traditional therapy and technological resources to maximize treatment progress. In a blended treatment plan, specific objectives and interventions will reflect this combined approach.
Problems
Are you getting a complete picture of the client? Assessment of problems needs to encompass all areas of life, including physical/medical condition, relationships, family, legal status, occupation, and psychological history.
Which problems are most important to address? List them in order of priority.
Is there a clinical diagnosis?
Goals and Objectives
Do the goals address the problems listed?
Does the client understand and agree with the goals?
Do the objectives reflect the goals?
Are the objectives measurable?
Interventions

What is the intervention (e.g, individual therapy, blended care)?
Does the intervention fit the objective?
Does the client understand how the intervention will help them reach their goals?
Are the interventions time-limited (i.e., have you set a deadline)?
Progress

How will you measure progress?
How often will you assess progress?
Does your client understand how you assess progress and when it will occur?
Discover how to save time on therapy notes by watching the video below
Technologies that support counseling treatment plans
Implementing the features of a counseling treatment plan can seem overwhelming in a string of hour-long, in-office sessions every day.

Many mental health providers are turning to technology such as practice management (EMR) software to streamline their treatment plans.

For example, tools like TheraPlatform, offer a library of note templates, including treatment plans where clinicians can modify plans and build their own from scratch. This keeps treatment plans consistent, easy to read and ensures the clinician includes all the necessary information. TheraPlatform also allows counselors to request signatures from the client on treatment plans via a secure client portal. And the process is easy.
The clinician clicks a button to request a signature.
The client receives an email notification that a doc is available for signature
The client securely logs in, signs the treatment plan and the signed plan is automatically saved for the clinician under the client's chart.

In addition, TheraPlatform offers integrated Wiley treatment planners, with thousands of prewritten problems, objectives, interventions and homework. Technology can make life a bit easier.
Do I need to revise my treatment plan?
In a word, yes. Counseling treatment plans are as dynamic as the people they serve. Whenever there is a significant change in the client's life (or their issues), then an adjustment in their treatment plan is probably needed. Usually, a treatment plan is made at the beginning of therapy before you have much information about the client. As you find out more, the counseling treatment plan might need to be amended. Additionally, if a client has made good progress on a particular goal, you may want to remove it and replace it with something more relevant. As a general rule, a treatment plan should be reviewed every three to six months to make sure it still reflects a client's current needs.
How a counseling treatment plan can help with an insurance audit?
You may not think insurance and treatment plans are related, but a good plan can help you get through an audit unscathed and/or prevent you from getting audited in the first place.
How a counseling treatment plan prevents audits?
An individual clinician or institution gets audited when an insurance company feels there may be irregularities in billing. Insurance companies need to see that the treatment they are paying for is necessitated by the client's problems. A counseling treatment plan helps counselors identify those problems and assign accompanying client objectives. As long as the billing reflects those goals and objectives, it is much less likely a practitioner will be audited.
How counseling treatment plans may save you if you are audited?
If you are unlucky enough to get audited, a counseling treatment plan can save you from serious negative consequences. It presents a clear guide for the insurance company to follow exactly what you are doing to treat the client successfully. Think of it as evidence that you are doing what you are supposed to do. Of course, if your billing practices do not match your treatment plan, you may be in trouble.
Counseling treatment plan example
The following is a basic example of an initial CBT outpatient psychotherapy treatment plan for a female suffering from depression. This example lists one goal with accompanying objectives. Please keep in mind that a counseling treatment plan for an institution or group practice is likely to be more complicated and need to include additional information.
---
Name

: Jane Doe


Identified Gender

: Female


DOB

: 5/5/1992
---
| | |
| --- | --- |
| PRESENTING PROBLEM | Jane presents with depressed mood. She complains of feeling sad, lethargic, and unmotivated. She reports frequent crying spells that "come out of nowhere". She says that her appetite has significantly decreased and she has difficulty getting out of bed. However, she states that she has difficulty falling asleep and wakes frequently during the night. Jane is having problems completing her work, as she feels "scattered" and doesn't want to be there. She reports that she has experienced some sadness in the past but nothing as severe as the past month. When asked, she remarked that she had fleeting thoughts of suicide approximately a week ago but presently has no intent or plan. No prior history of treatment. |
| Current Medications: | None |
| Provisional Diagnosis: | F32.1 Major depressive disorder, single episode, moderate |
OBJECTIVES and INTERVENTIONS
Objective 1
Target date
Progress at target date:
Eliminate suicidal thoughts.
Jane will call this therapist and her husband immediately if having suicidal thoughts. If neither can be reached, she will call the suicide hotline. Therapist will evaluate Jane for suicidal thoughts and behaviors at weekly therapy sessions. Client will be educated in DBT concepts regarding suicidality with the eventual objective of implementing those concepts.
One month
Objective 2
Target date
Progress at target date:
Complete CBT thought record each week.
Therapist will explain the concepts behind the thought record and ask for it to be completed each week. Its contents will be reviewed weekly during the therapy session with an emphasis on reversing depressive thinking.
One month
Objective 3
Target date
Progress at target date:
Get 7-8 hours of sleep each night.
Therapist will review proper sleep hygiene techniques with client (e.g., relaxation, blue light reduction) and ask her to implement at least two changes that might improve her sleep.
One month
| | |
| --- | --- |
| BDI Score: | This therapist met with the client on the identified date in a face-to-face meeting to work with her in developing this counseling treatment plan. |
Counseling treatment plan tips
Let's look at a few tips to help you through the planning process:
Just as your billing needs to match your treatment plan, your progress notes need to reflect the goals and objectives you created with the client. Looking at the counseling treatment plan regularly will help keep you focused on the client's goals during the session. Your progress notes should illustrate your work toward completing those objectives.
Not only do goals need to be measurable, but they also need to be attainable. It is great to reach for the stars but if a client cannot realistically meet their goals they will likely become frustrated and drop out of treatment.
Download our free SMART Goals worksheet
Set goals that motivate the client. If the patient is not invested, they won't take the actions necessary to address their objectives. Goals can't just be important to the clinician. This is their plan, not yours. They need to be highly involved to be successful.
Make mostly short term-goals but don't forget about a possible long-term goal. Short-term success will help the client stay motivated in treatment but not everything can be addressed immediately. They may not be the priority, but listing them as a future goal will help everyone keep them in mind.
Not every client has a clinically serious problem. For example, someone with a few depressive symptoms may not qualify for major depressive disorder or persistent depression. An insurance company may not cover certain diagnoses, especially if they consider them less serious. Don't lie just to get your client covered. That is fraud and may have severe consequences.
Don't make more than three goals at a time. It is simply too much. Three goals are ideal for a counseling treatment plan. A client can't be expected to focus on too many goals at once. You can keep a few extra goals in reserve for when the client completes the original ones.

Similarly, objectives under each goal need to be limited. Like goals, too many objectives can feel overwhelming. When a client is struggling to meet their objectives, they can be reduced. Sometimes, it may be necessary to have only one objective to highlight its importance.

Set a date of completion for your objectives. Having a deadline helps keep the client focused. At the deadline, you can reassess the need for the objective. Keep in mind that just because you make a deadline does not mean you can't extend it if it has not been completed.

Be open with your client about how you will measure progress. Make sure it is measurable and they understand how it works. Plus, telling them about progress checkpoints will keep them motivated.
How EHR software can help with counseling treatment plan templates
Electronic health record (EHR) and practice management software, such as TheraPlatform, can help therapists save time when creating counseling treatment plans.
Benefits of using EHR for counseling treatment plan templates
Consistent template plans
Having an EHR with built-in assessments and templates for adults and children can help mental health therapists create individualized counseling treatment plans more efficiently.
Screenshot of TheraPlatform's built-in counseling treatment plan template library. Search TheraPlatform's template library with built-in counseling assessments and treatment plans and edit the templates to meet your needs.
Customizable treatment plan builder
Many therapists with niche private practices can use TheraPlatform's flexible treatment plan builder to create specialized plans. In addition to the ability to edit templates, therapists can build any template from scratch to meet their private therapy practice needs and preferences.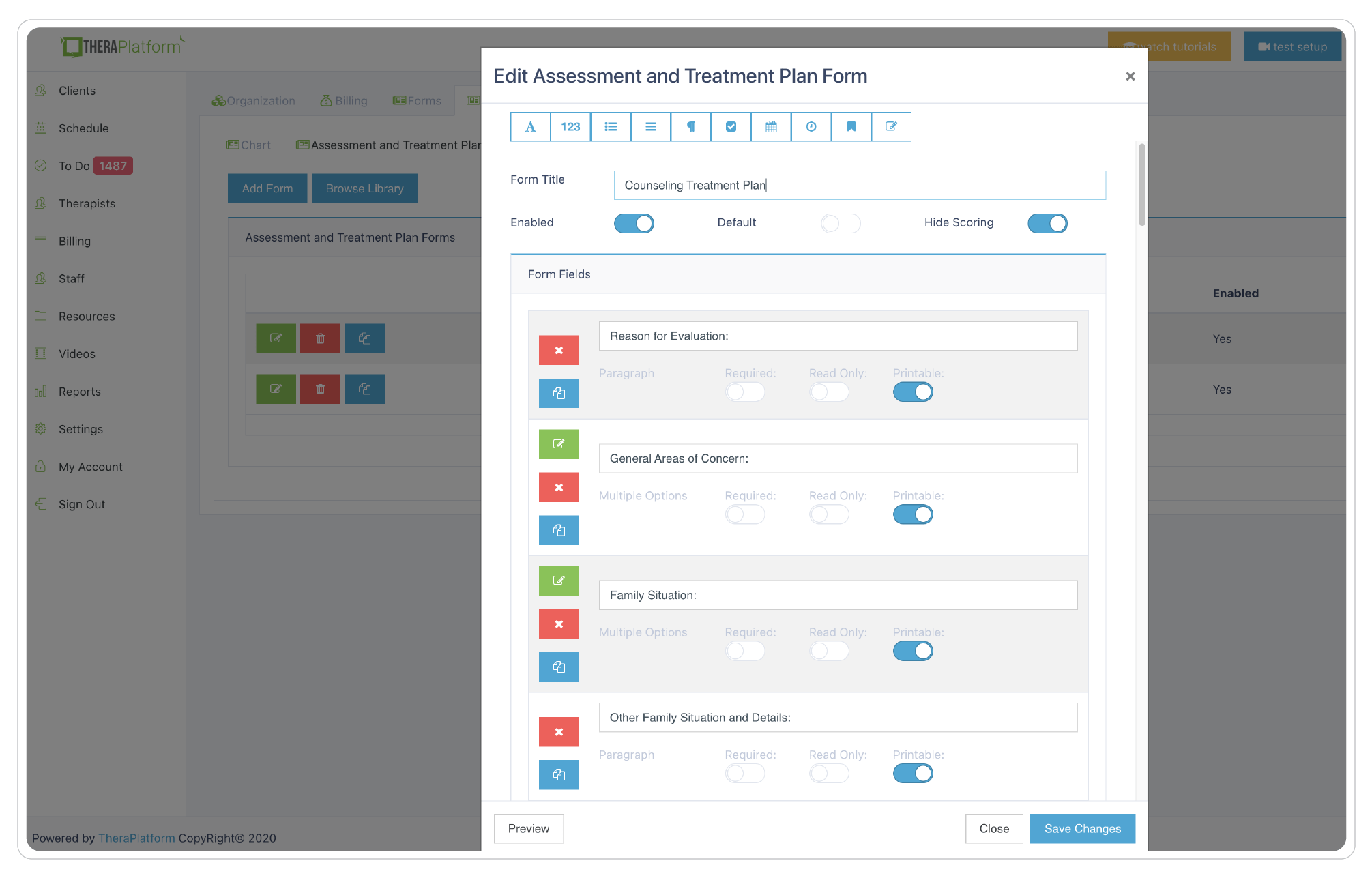 Screenshot of TheraPlatform's form builder. Use existing templates to customize your counseling treatment plan for a specific client or build your own from scratch.
HIPAA-compliant storage of counseling treatment plans
Creating and storing your counseling treatment plans in a secure, encrypted system to prevent breaches will ensure your clients' data is safe and give you peace of mind. TheraPlatform follows bank-level security standards and provides private practices with a signed BAA. Having a secure way to store your treatment plan is an easy decision and can be easily submitted to insurance.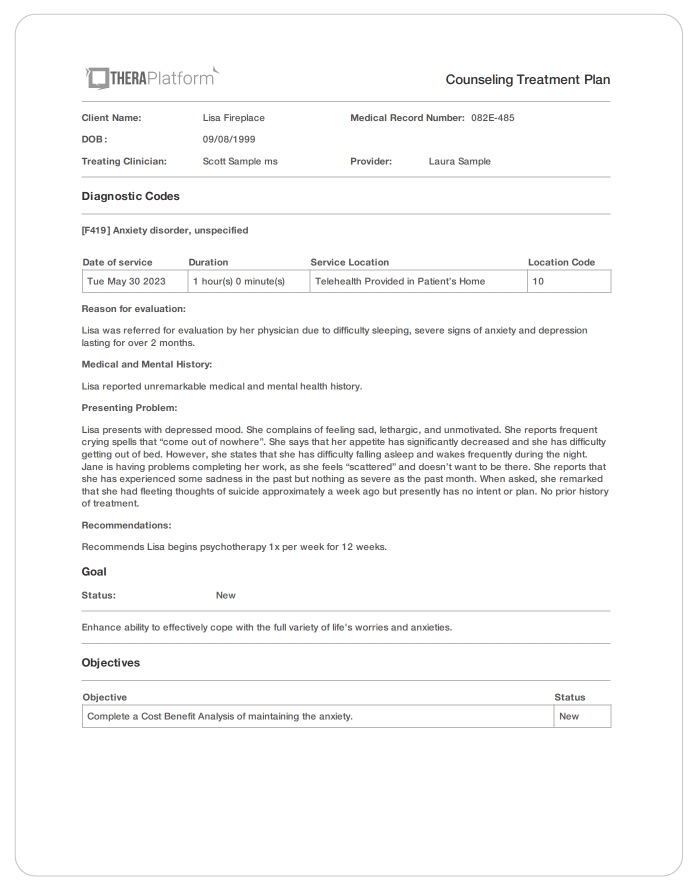 Counseling treatment plan created with TheraPlatform. Therapists can quickly create high-quality counseling treatment plans using templates pre-populated with nearly 1,000 statements.
Save time with pre-populated treatment plans
Through Wiley Treatment Planner integration, creating treatment plans in TheraPlatform is a great time saver. Mental health therapists can customize treatment plans using reliable, evidence-based objectives and interventions and receive home suggestions to assign to clients.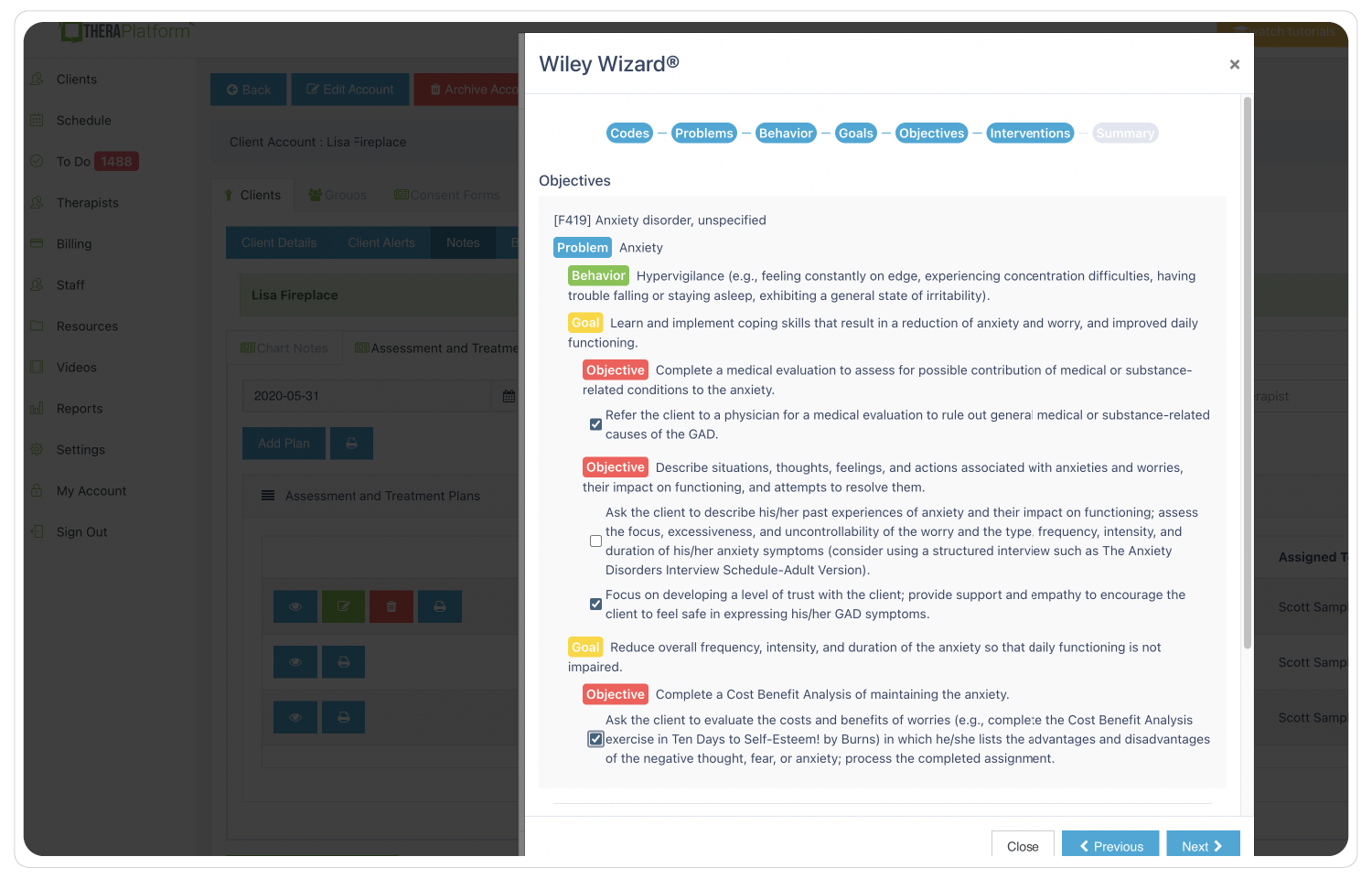 Screenshot of Wiley Treatment Planner integration into TheraPlatform illustrating how areas like problems, behaviors, goals and objectives can be completed with pre-populated, research-based statements.
Requesting client signatures is seamless
TheraPlatform also allows counselors to request signatures from the client on treatment plans via a secure client portal.
And the process is easy
The clinician clicks a button to request a signature.
The client receives an email notification that a doc is available for signature
The client securely logs in, signs the treatment plan and the signed plan is automatically saved for the clinician under the client's chart.
Save time with e-Fax
Eliminate maneuvering between two software programs with an integrated solution like TheraPlatform that has efax integrated into its EHR. This integration saves time and lowers costs as incoming and outgoing documents like notes, and other documents are securely sent electronically.
Wiley Treatment Planners
Treatment plans are an integral part of mental health counseling. TheraPlatform offers Wiley treatment planners integration to make the writing and managing of therapy notes easier. TheraPlatform has a library of templates that make it easy to create the right counseling treatment plan for any client. Additionally, they let you build plans from scratch to suit all your specific needs. And Theraplatform is more than just a great place to generate electronic health records (EHR). It is a complete HIPAA-compliant practice management and teletherapy platform. So, don't waste time wondering where to begin. TheraPlatform, an all-in-one EHR, practice management and teletherapy tool was built for therapists to help them save time on admin tasks. Start a 30-day free trial today.
More resources
Free video classes