Superbill in your therapy practice
Superbills are an integral component to running a private practice, which is an ongoing learning experience. Learning about billing is a necessity to running your practice.
Understanding superbills and how to use them for your practice are important aspects of billing. This article will help to teach you about superbills and how to integrate them into your practice.
What is a superbill?
A superbill is an invoice that itemizes specific information regarding the services you provided for a client. Therapists primarily provide superbills for clients who plan to seek out-of-network reimbursement from their insurance company for your services. The client submits the superbill to their employer, insurance company, or health care savings account (HSA) in order to receive reimbursement at the out-of-network rate for the sessions.
A superbill differs from a statement, receipt, or invoice. These types of documents list the charges and payments received on the account. The superbill itemizes information for the insurance company.
What to include in a superbill?
Because the superbill communicates specific and important information to the insurer, it is important to include the correct information. Creating a template for your superbill can simplify the process for you. Because different insurance companies might require specific information, you can create a template that incorporates the general information that any insurance company would request rather than having a separate form for each insurance company.
To prevent any delays of payment and decrease the chance of rejection of the claim, you can ensure that your superbill contains all of the necessary information that an insurance company would request.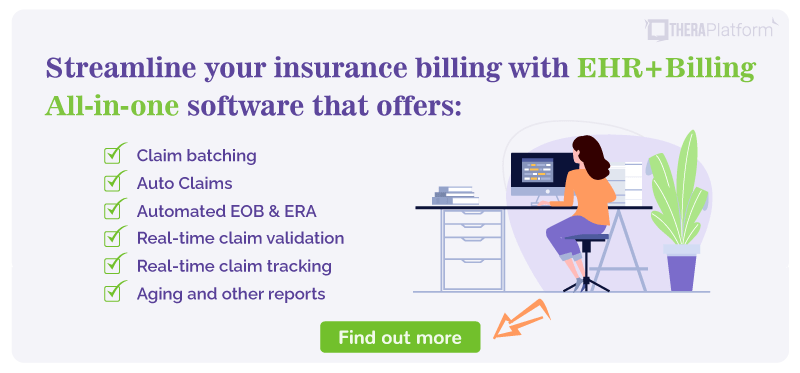 Client information
Client's name: Include the first and last name associated with the insurance plan
Client's date of birth: List the date of birth in day, month, and year format
Client's diagnosis: A billable diagnosis from the DSM-V using ICD-10 coding
Client contact information: Use the address and telephone number associated with the insurance plan
Billing and procedure information
Procedure code with appropriate modifier(s): Enter the correct Current Procedural Terminology (CPT) code or Healthcare Common Procedure Coding System (HCPCS) associated with the billable procedure or service provided. Most insurance companies use CPT codes but some plans, such as Medicaid plans, may use HCPCS codes.

Service description: Write a short description of the service or procedure performed. If the service was telehealth, include the format (phone or video)
Billable units for each procedure code: CPT codes usually consist of one unit per billable service. Most HCPCS codes assign units to fifteen-minute increments.
Billable amount for each procedure: Enter your usual and customary charge for the service provided
Date: The date of the service provided
Place of service code for each procedure: Where was the service performed? Was it telehealth or in-person?
Credit or payments made: Identify any payments the client has made toward the account
Balance due: Remaining balance owed on the account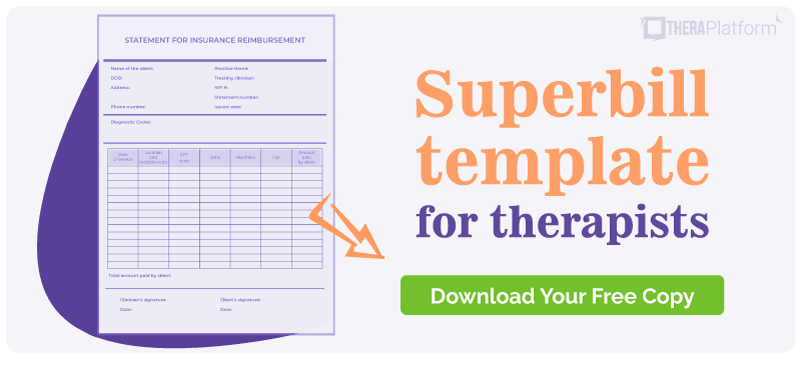 Provider information
Provider's contact information: Be sure to include all possible and necessary contact information for the provider and the practice:
Provider's first and last name
Practice name
Practice service address
Practice billing and mailing address (if different from service address)
Contact phone number(s)
Fax number
Email address
In addition, you'll need to add the following information:
Employer identification number (EIN): Include the EIN for the provider and the practice if it differs.

National provider identifier (NPI): When billing insurance, in-network or out-of-network, you need an NPI associated with the provider.
Therapist's name and signature: Provided a printed name as well as signature (can be an electronic signature)
Licensure information: Include the state, license, license number, and type of license (ex.: FL LMHC 1234, Licensed Mental Health Counselor)
How to use the superbill with clients
When your practice does not accept a client's insurance, you have the option to provide a superbill for the client. It is not a mandatory requirement that you offer this service. You can make the decision for your practice that you do not offer superbills.
If you decide that you will offer this service, then it is important that you discuss this process with your clients before initiating services and again upon intake.
When discussing superbills and your practice policy regarding out-of-network billing procedures with your client, encourage your client to contact their insurance provider to inquire about their out-of-network benefits and how to submit for reimbursement. Due to HIPAA regulations, the insurance plan will not discuss the client's benefits and eligibility with an out-of-network provider. The client must make this call.
Once you have created the superbill, you have several options for what to do with it. It is important to decide what works best for your practice.
Most therapists who provide superbills for their clients, receive payment for the agreed-upon rate from their clients with each session.
Choice A: You provide a copy of the superbill to the client. The client then needs to have made contact with the insurance plan and know how and where to submit the claim. They may need to attach it to a form provided by the insurance company or the employer.
Choice B: The therapist submits the superbill on behalf of the client. In this option, you need to have the correct information from the plan regarding how and where to submit the claim.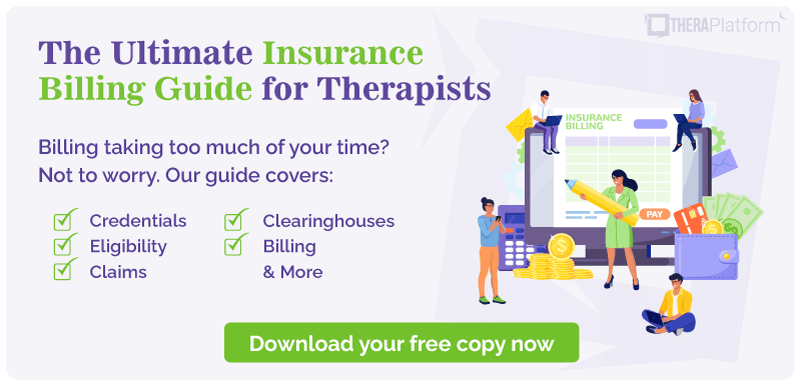 Benefits of using a superbill
There are some benefits for your practice and for your client if you decide to provide superbill.
Increase referrals: When you provide an opportunity for people to receive reimbursement from their insurance company for counseling, you may attract more potential clients to your practice.
Increase access to services: Some people may not be able to afford your services without seeking reimbursement from their insurance companies. When you offer the option for reimbursement, then more clients can access your services to get the help they need.
Decrease paperwork for your practice: As an out-of-network provider, you decrease the paperwork required for your practice.
You eliminate the need for paperwork related to:
Insurance credentialing paperwork or re-credentialing paperwork
Billing insurance companies
Bookkeeping related to insurance claims
Reduce overhead: As an out-of-network provider, you need to pay for software or services related to billing insurance claims.
Receive payments immediately: With a practice that does not bill insurance, you can receive payment for your services immediately upon providing the service. You do not need to wait for an insurance company to pay the claim.
Drawbacks to using superbills
Therapists may decide to offer superbills to clients when:
Awaiting credentialing from an insurance company
Not joining a specific insurance panel
Running a practice that does not take any insurance
If you do not accept a client's insurance, you do not need to provide a superbill. If you are contemplating this option for your practice, there are some disadvantages to consider.
When your client submits a superbill to their insurance plan, it opens the possibility of the insurance company reviewing the client's record. When the client submits a superbill, they are asking the insurance company to pay for the service. This request opens the door for the insurance company to review the treatment record, notes, etc. for medical necessity.
Consequently, your documentation must meet the standards and requirements of the insurance company if you provide a superbill to the client. If you do provide superbills, familiarize yourself with documentation guidelines to ensure that you write appropriate notes, treatment plans, assessments, etc.
Start 30-day Free Trial and explore TheraPlatform. HIPAA Compliant Video and Practice Management Software for Therapists.
Another drawback can occur when a client does not understand the out-of-network benefits of their plans. A client might expect to receive a certain amount of reimbursement from their insurance plan and then end up receiving a much lower amount, if any reimbursement.
You can help your clients if you provide them with a form that indicates what they need to ask of their insurance company related to your services. You can review this information with the client to ensure their understanding of what they will likely pay and the amount of reimbursement they will likely receive.
Resources
TheraPlatform, an all-in-one EHR, practice management and teletherapy tool, can generate a superbill for you and even electronically send it to your client. They also offer a 30-day trial with no credit card required. Cancel anytime.
More resources
Free video classes