Ultimate Teletherapy E-Book
Telehealth for Therapists: All You Need To Know To Take Your Practice Online.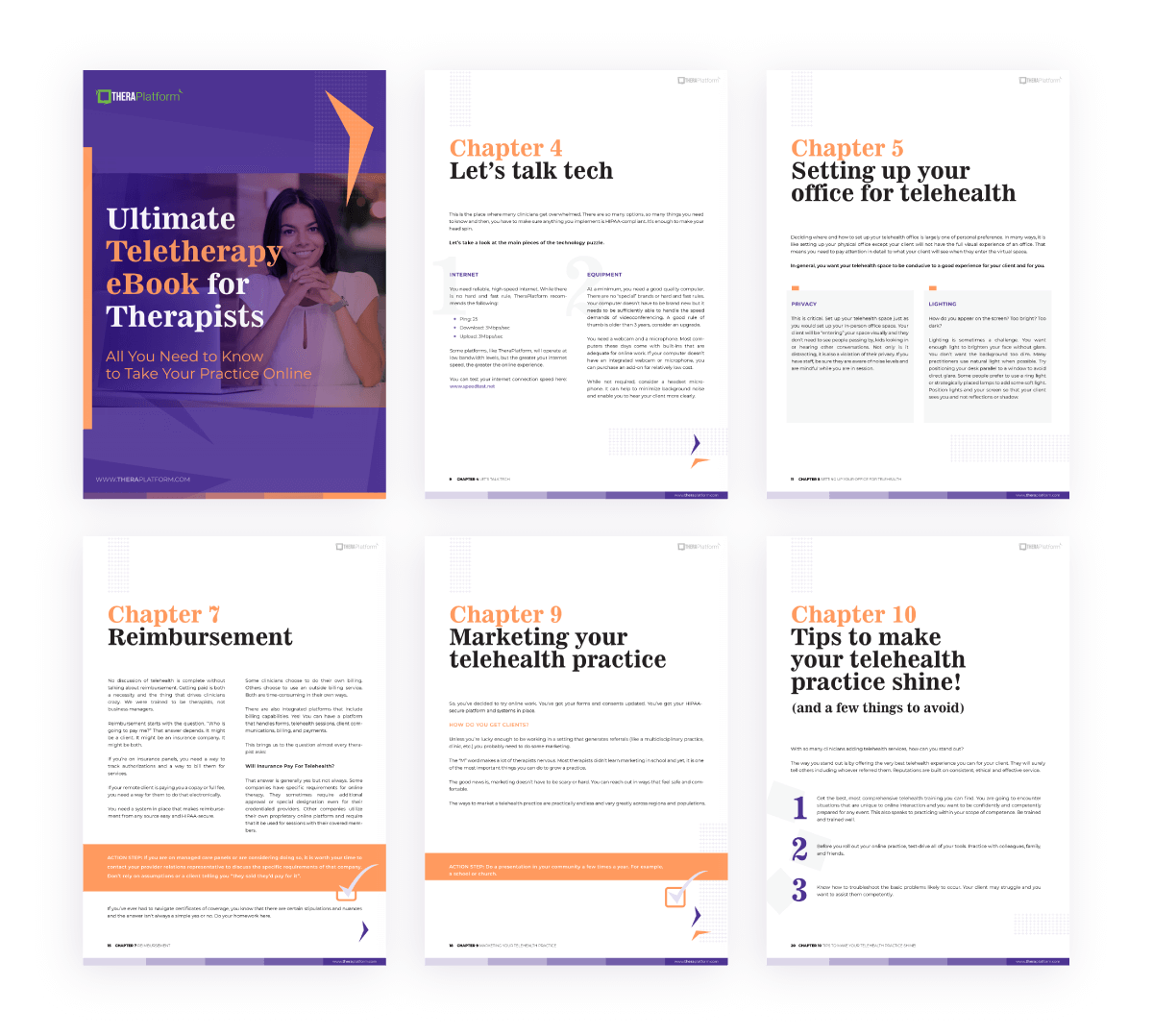 Teletherapy E-book
If you're like most therapists, you're curious about telehealth (teletherapy) and how you can integrate this exciting modality into your practice. There is so much information out there and, if you're not tech savvy, it can be confusing! Where do I start? What do I need to know? If this sounds like you, this book is designed for you! We've taken some of the most common issues therapists ask about and put it all into one, easy-to-understand guide. Think of this telehealth ebook as kind of a quick-start to your online practice (teletherapy). So, grab a pen and get ready to build your telehealth practice!
Introduction
Chapter 1: What is Telehealth and Teletherapy?
Chapter 2: Who Can Provide Telehealth Services?
Chapter 3: Who Is A Potential Candidate for Telehealth Services?
Chapter 4: Let's Talk Tech
Chapter 5: Setting Up Your Office for Telehealth
Chapter 6: Managing Documents
Chapter 7: Reimbursement
Chapter 8: Professionalism and Ethics
Chapter 9: Marketing Your Telehealth Practice
Chapter 10: Tips To Make Your Telehealth Practice Shine! (and a few things to avoid)
How to share paperless worksheets with your clients to save time and money?
Upload and organize your worksheets in TheraPlatform (practice management, EMR and telehealth in one software) and share them with your clients with a click of a button. Sign up for a free 30 day trial now - no credit card required!
Need more anger management worksheets? Check out our free anger management resource page.