Telehealth Consent Form, misconceptions and tips will be covered in this blog article. As a licensed clinician, you are likely required to obtain consent for treatment. Depending on where you are in the world, you may have more than one type of consent that is required. You probably have standard form(s) and a process that you use to get it signed. Easy right? Well, yes, if the client is sitting in your waiting room.
But what about your telehealth clients? What are the requirements for informed consent in your jurisdiction? And, working virtually, just how do you get it signed? These are the dilemmas that telehealth clinicians have to work with on a daily basis.
The Misconceptions
There are some misconceptions about telehealth informed consent
You're working virtually and don't need formal consent
The area your client lives in doesn't require formal consent
You can use your standard consent form for both your in-person and telehealth clients
Of course, there are exceptions somewhere in the world but in general, as a licensed mental health clinician, you are required to obtain informed consent whether a client is in-person or online. The issue is further complicated by geographical and board requirements. This issue can be particularly relevant if you work with international clients. Their home country may not require informed telehealth consent form. Your jurisdiction probably does. What's a clinician to do?
Know the Facts
Before you embark on a telehealth practice, get the facts about informed (and other) consents. You want to fully understand your responsibilities as a clinician both legally and ethically. If you are seeing clients in other states, find out what that state's requirements are.
Did you know that in some states, you have to be licensed to practice in BOTH the state you're in AND the state the client is in? Do they have different requirements for informed consent? Maybe.
Working with international clients is a bit more dicey. Your board may stipulate that you have to be licensed in the state where the client resides. OK, but what if your new client lives in Croatia? Does the licensure requirement still apply? What are the mental health laws in Croatia regarding licensure and informed consent? Hmm…it gets real complicated real quick.
The short answer is: know your mental health law and responsibilities regarding informed consent. "I didn't know" will not fly with a disciplinary board.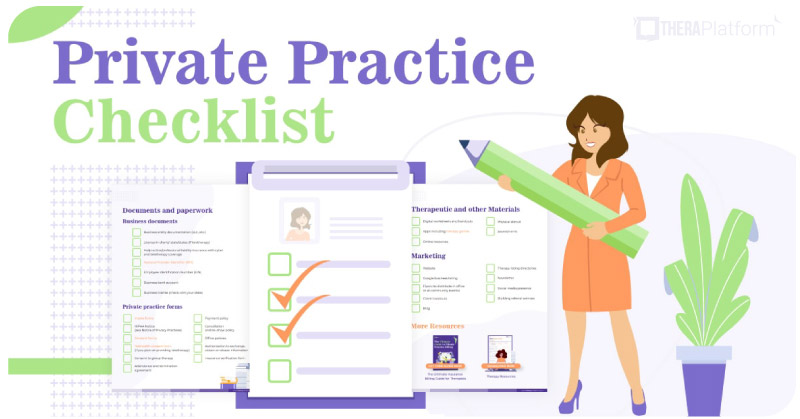 One Size Does Not Fit All
When it comes to clients and telehealth consent forms, you have to be sure that your consent forms provide all of the necessary information for a client to make an informed decision about care. In fact, if you're in practice already, you probably have one. But does it address telehealth?
Just as with in-person therapy, there are limits and risks inherent to technology and telemental health. There are issues with:
the use of technology
protection of PHI and confidentiality
internet security
connectivity and more
It is your ethical (and maybe legal) obligation to make sure your client fully understands what therapy in a virtual setting is and is not. These unique aspects of telehelath such as teletherapy or telemental health need to be in your informed consent document.
Now, you might be thinking that you can just use your standard informed consent. Well, if it fully addresses telehealth then maybe. Some therapists make one big informed consent for all to sign. Others have separate consents for in-person clients and telehealth clients. How you structure your consent is up to you, your board requirements and the best fit for your clients.
Start 30-day Free Trial and explore TheraPlatform. HIPAA Compliant Video and Practice Management Software for Therapists.
Obtaining Consent
Now we get to the struggle of many a telemental health therapist: getting documents signed. These clients may be hundreds of miles away. They are often not tech savvy.
You might be asked if a verbal consent will suffice. If you've been in practice long enough, you've heard someone say, "If it isn't in writing, it didn't happen." Except in maybe a very rare emergent situation, verbal consent will not suffice. Written consent ensures that you can prove that the client was fully informed and provided consent. This protects you and it protects the client.
You could email forms but there is the issue of secure email, scanning and returning forms, copying and filing to a chart or EHR. Document signing services are an option but they tend to be a bit pricey for small practices and you have to navigate between platforms – telemental health, EHR, document signing, claims – that may not play well together. That is time you can never get back.
So what's a savvy clinician to do? Wouldn't it be awesome to have a platform where you can house your forms AND have a way for clients to sign them all in one place? Now you can!
TheraPlatform is one of the few telehealth health video conferencing platforms that offers clinicians a library of forms and templates, the ability to house their forms and documents AND document signing capability within the platform! Because TheraPlatform is designed for telehealth clinicians, they understand the unique challenges that telehealth clinicians face with administrative kinds of tasks. Depending on your practice needs, one platform may be all you need!
Make a list of what you need from a video conferencing platform. Look at all the options. Then compare and choose the one that makes your practice flow more smoothly and offers the best client experience.
At the end of the day, you have to make sure that any consents you're required to have are informative, accessible and signed by your client. You may never have to produce them but they are there for a reason and you can rest assured knowing your client is fully informed and that you are maintaining the highest standards for care in your practice.
No one likes dealing with paperwork but having a HIPAA compliant video conferencing platform that helps you manage your practice forms efficiently can lighten the load. Less time chasing paperwork means a more efficient process and more time helping your clients. That's a win for everyone.