Telehealth training is a valuable tool for many types of therapists, whether they practice speech, occupational, physical or mental health therapy. While telehealth has gained popularity in the past decade, the pandemic hastened the arrival of online platforms as a popular way to provide telemental health as well as speech, occupational and physical therapy services.
Performing therapy online (teletherapy) has some advantages over traditional in-person therapy such as convenience, accessibility, and appeal for people with difficulties being in an office environment.
While the advantages are substantial, it is not the same as in-person therapy. Offering telemental health services involves certain considerations that are different from traditional counseling which is where teletherapy training may be helpful.
The benefits of telemental health training
As a therapist, it may be tempting to choose a general use videoconferencing platform and conduct therapy online as you would with a client in person. In fact, many therapists went this route because of COVID-19 social distancing requirements. But, as any therapist who has done both can tell you, there are numerous elements of telemental health that you may not have considered before you went online.
Competence in telemental health
The foremost consideration with telemental health is the question of competence. Competence is an ethical obligation for all therapists, but competence as a therapist may not translate to competence as a teletherapist.
In fact, many therapist organizations, such as the National Board for Certified Counselors and the National Association of Social Workers, explicitly state the need to be competent in telehealth.
Besides basic competence, laws, ethics guidelines, and clinical skills need to be redetermined in an online world. For example, are you proficient enough with online technology to screen share relevant materials as you would present them during in-person therapy? Basic telehealth training prevents weeks of fumbling through mistakes and violations and leads to better patient outcomes.
In addition, telehealth training may not only benefit the practitioner, but may also benefit the practice. For example, marketing yourself as a therapist with specific training in teletherapy could put apprehensive clients at ease and expand your client base.
Telehealth training may also give you an advantage over the competition.
What should I expect from telehealth training?
The following are some of the most critical areas to be covered in telehealth training:
How start a teletherapy practice: Learn how to start and grow your private practice, manage business operations, simplify billing and insurance and excel at offering telehealth sessions.
Billing and practice issues. Is there a special billing designation for telemental health in your state, and can you perform therapy with someone in another state where you are not licensed?
Informed Consent. How will you modify your informed consent to educate and reflect issues that arise from teletherapy?
Privacy and confidentiality. Whenever you use technology, there are questions as to how you will keep a client's personal information secure. For instance, is the platform you use for teletherapy HIPAA (Health Insurance Portability and Accountability Act) compliant, and are your procedures secure enough to ensure that a client's information will stay confidential?
Technical requirements. Are you using the best computers, audio and video equipment for a successful telehealth session? Are your clients?
Establishing a comfortable and private environment. Minimizing distractions and upholding client confidentiality are major considerations when offering teletherapy. Telehealth training can provide unique insights into what works best in online settings.
Clinical issues. Are there specific therapeutic techniques that work well with teletherapy? How do you establish rapport online? Is teletherapy appropriate for severely ill, suicidal, and hard-to-treat clients?
Boundaries. How do you keep appropriate boundaries with clients in an online world? Rules for social media engagement and communication with clients need to be determined.
Troubleshooting telehealth. Being able to troubleshoot technical issues during a telehealth session is critical to client success. Telehealth training can teach therapists basics around effective troubleshooting.
Telehealth marketing. Sharing that you offer telehealth to expand your client base or to offer existing clients options is smart business. But what are the best ways to communicate this to your referrals, clients and the general public?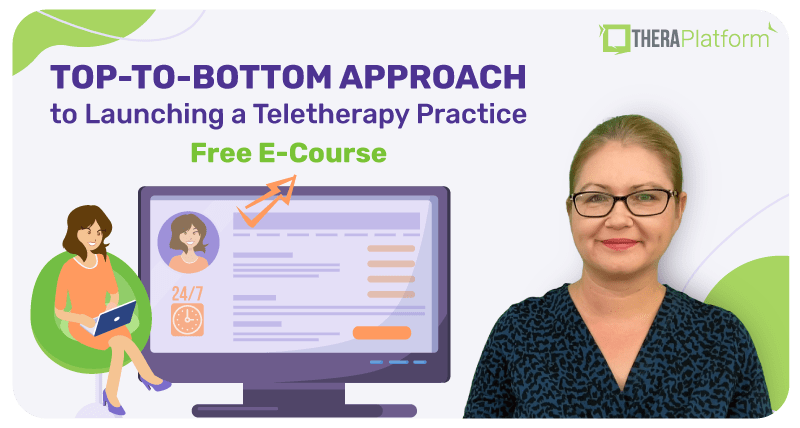 Telehealth training options for mental health providers and other therapists (e.g. SLPs, OTs, etc.)
Telehealth training options have exploded over the past few years and run the gamut from a single CE course to a full-fledged "board certification" requiring numerous hours of training. As of now, almost all of these are offered exclusively online.
Here are some of the most credible options for telemental health training:
The Board Certified-TeleMental Health Provider (BC-TMH) credential was developed by the Center for Credentialing & Education (CCE), an affiliate of the National Board for Certified Counselors (NBCC). It is a nationally recognized certification in the use of teletherapy.
PESI is a leader in continuing education for therapists. They offer training that provides a Certified Clinical Telemental Health Provider (CTMH) credential.
Person Centered Tech offers a comprehensive Telemental Health Certificate that, in addition to traditional learning modules, provides live support for three months while you are getting used to providing telemental health services.
The TeleMental Health Training Certificate (THTC), offered by the Telehealth Training Institute, provides options for self-help and live webinars, as well as an hour consultation with an expert in telehealth. In addition to workbooks, they also provide forms that can act as a template for your practice.
The lessons cover:
An overview of teletherapy
HIPAA security and teletherapy
Telehealth technology
Troubleshooting common telehealth problems
Setting up your office for teletherapy
Preparing clients for teletherapy
Telehealth marketing
Telehealth Training Tips
Choose the telemental health training model best for you. We all learn differently. Some people may want interactive support with a real person while others may only require a few self-help resources. Many of these telemental health training programs give you the option to choose what components you want to receive. Don't feel like you have to try every one if you feel like only one part will do.


Use trusted sources. Make sure they are endorsed by respected colleagues or known professional organizations. Further, if you want to receive CE credits, they need to be approved by your state licensing board.


There is no one official teletherapy training certification. Instead, many private companies offer different levels of telemental health training resources. So, when you see fancy titles, such as "board-certified" these are created by the companies, rather than an official professional entity. You will need to dig a little deeper to see if they offer what you are looking for. Getting a shiny new certificate does not mean it will meet your particular needs.
Do you need teletherapy training?
The vast number of therapists practicing online have not received telehealth training. There is no law or licensing obligation that requires you to receive any specialized education in this area. However, there are numerous legal, ethical, and clinical issues that need to be considered for anyone conducting telemental health sessions You are doing a disservice to yourself and your clients if you undertake teletherapy without some education. But you don't have to take a protracted 20-hour course as many types of training opportunities can improve your telehealth practice. Do yourself a favor and find the option that is right for you.


Start 30-day Free Trial and explore TheraPlatform. HIPAA Compliant Video and Practice Management Software for Therapists.
In addition to educating yourself about teletherapy alone via telehealth, don't forget to receive training on how to use a video conferencing platform. TheraPlatform (EHR with a free built-in video conferencing) offers both pre-recorded and live training on how to use their platform. It is the most comprehensive telehealth option on the market and the most cost effective.
In addition to built in video conferencing, it offers:
An interactive whiteboard
A personalized resources library
Screen sharing
EHR
Scheduling
Documenting
Billing
Insurance and much more.
They offer a 30-day free trial with no credit card. Sign up for their 30-day trial here.
More resources: