Conducting Cognitive Behavioral Therapy (CBT) seems pretty straightforward: you explain to the client how thoughts lead to feelings. You examine the client's beliefs. You show them how they are distorting their thoughts, leading to negative feelings. You help the client change their thoughts. You ask them to implement a few behaviors. Easy, right? Even though CBT has a clear premise, conducting it is much more of an art than it is pure science. Here are five tips to make sure your CBT treatment is a success.
Work On Rapport
Because Cognitive Behavioral Therapy (CBT) is advertised as a brief treatment there are therapists who feel like they need to immediately dive into the theory behind CBT and start eliciting core beliefs from their clients. Although it is important to "get started" in the first session, it is just as critical to establish rapport (Goldfried, 2013). If your client feels comfortable, you are going to be able to find out a lot more about what they are really thinking than if you get right down to business. Take the first half of the first session to talk about their history, discuss your background, address any concerns, etc. Additionally, furthering the therapeutic relationship should not be forgotten after the first session. Establishing rapport is a continuous process and parts of each session should be spent building a collaborative relationship. Bottom line: you won't get much anywhere without a strong relationship.
Give Them Homework In The First Session
In some forms of therapy, you can spend multiple sessions working on the therapeutic relationship and setting up treatment for future success. CBT, however, is a time-limited endeavor (Fenn & Byrne, 2013); you want to quickly educate your client and begin to move them forward. You would like your client to depart the intake session feeling hopeful about the treatment. Ask them to complete a couple of therapeutic behaviors in which they can achieve success without much of a challenge. By giving them homework in the first session, you help them become invested in CBT and jump-start them toward working on their goals.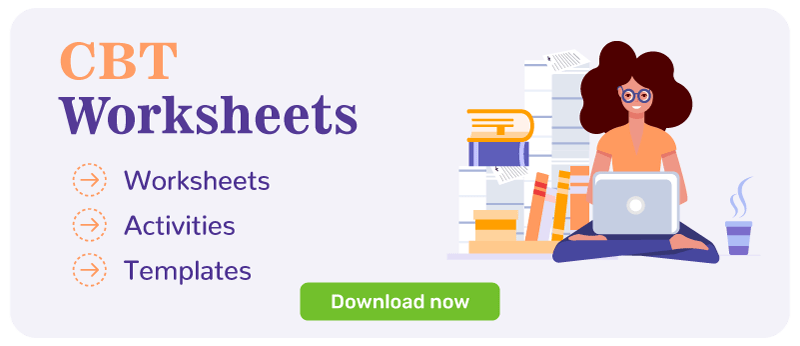 Make Sure They Buy-In
Cognitive Behavioral Therapy is based on a specific theory, and for some people, it may be hard to swallow. Do you mean that if I just change my thoughts, I will feel better? Or, how am I going to be able to change my thoughts when I have been thinking this way my whole life? Maybe they doubt that instituting a few behavioral changes will make a difference. These are all legitimate concerns and any issues need to be addressed as soon as possible. If the client does not believe in the theory, they will not be invested in the treatment.
How do you know a client has concerns? They may verbalize it without prompting, but much more likely, you will need to ask them directly. There may also be moments during a session where you have the opportunity to read their body language and address it in the moment. For example, if you are showing a client how a distortion leads to a certain feeling and they roll their eyes, it is probably a good idea to ask them about it. Similarly, if they are not completing the homework, you need to address their resistance. Clients engage in therapy because they believe it will help them solve their problems. If they doubt it can help them, it won't work. Luckily, CBT has been studied more than any other type of psychotherapy. There is plenty of research out there to help you convince a client that they will successfully reach their goals.
Start 30-day Free Trial and explore TheraPlatform. HIPAA Compliant Video and Practice Management Software for Therapists.
Stay On Track, But Be Flexible
It is easy to go astray in therapy. Your client comes in talking about the horrible experience they had this weekend and before you know it, the session is over. It is important to strike a balance between discussing current concerns and exploring patterns of maladaptive thoughts and behaviors. Of course, this is easier said than done. Discussing problems as they arise is a part of therapy, no matter the theoretical orientation, and should not be minimized. It would be a mistake to ignore a difficult situation just so you can review the homework you assigned last week. However, at some point, you need to be assertive in bringing the focus back to cognitive behavioral therapy (CBT). Talking about current issues and performing CBT does not have to be mutually exclusive. In fact, it is useful to use real-life examples to point out faulty behavior, cognitions, and their outcomes. What you ideally want to avoid is client venting. Venting your concerns just to provide some sort of release is rarely helpful (Alpert, 2012).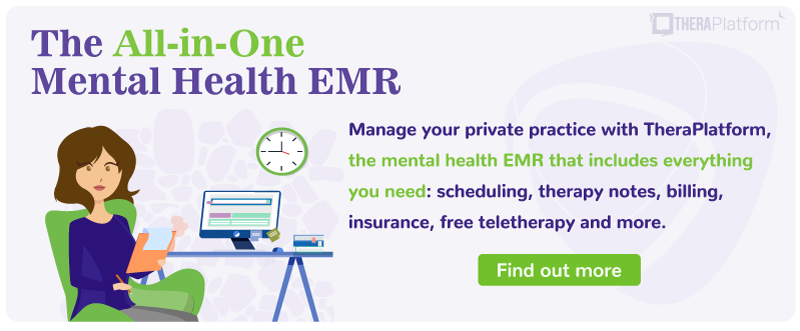 Ask For and Provide Feedback
Therapists are human beings. As much as a therapist wants to believe that they are being objective, they still have a biased point of view. That is why it is important to ask your client for feedback. You want to know how they are viewing the treatment and if they have questions/concerns. In CBT, it is important that clients understand the theoretical framework and experience positive results within the first few months. For example, if a client has been participating in weekly therapy for three months and does not feel they are making progress, the treatment needs to be reevaluated. Maybe they misunderstood the theory behind CBT or they don't feel like it is a good fit. Although criticism can be hard to hear, it is better to know a client's feelings rather than have them terminate therapy due to perceived ineffectiveness. On the flip side, you want to give feedback to your client so they know how you feel they are progressing and to make sure they are not veering off track. Giving and receiving feedback is a continual process that is best done as a regular part of a session rather than a big event conducted every two months. It is only through feedback that you will know how to shape the therapy, address concerns, and advise a client on when they have reached their goals.
CBT is a powerful treatment modality. However, like all psychotherapy, it is only as effective as its therapist. Thankfully, there are steps you can take to make sure your clients receive the maximum benefits from their CBT experience. By establishing a positive therapeutic relationship, helping clients stay invested, and eliciting feedback that will assist you in remaining on track, your client will succeed on their journey to positive mental health.
Resources
More resources
Free video classes
Sources
Fenn, K. & Byrne, M. (2013). The key principles of cognitive behavioural therapy. InnovAiT: The RCGP Journal for Associates in Training, 6, 579-585.
Goldfried, M.R. (2013) What should we expect from psychotherapy? Clinical Psychology Review, 33(7), 862-869.