Group therapy has become an increasingly popular choice. With the boom of telehealth, therapists can now even provide group therapy activities online. Before you make the decision to begin offering group therapy in your practice, it is important to learn a bit more about it.
What is group therapy?
In group therapy, the therapist provides mental health counseling and treatment to multiple clients at one time. The members of the group typically share some common characteristics, traits, symptoms, problems, or diagnoses.
Open group: Group members can join at any time.
Closed group: Groups run for a specified period of time. Group members start together and new members cannot join once the group has begun.
Why should I incorporate group therapy in my practice?
Group therapy benefits for clients
Research has shown that group therapy activities can help clients reach treatment outcomes just as effectively as individual therapy. A meta-analysis study published in 2016 by Gary Burlingame, Ph.D., of Brigham Young University demonstrated that there is no difference between individual therapy and group therapy regarding the rates of:
Accepting treatment services
Dropping out of treatment
Remission of symptoms
Feeling better

When considering adding group therapy activities to your practice, keep in mind that your clients will experience some benefits and advantages from a group situation that they will not experience with individual therapy.
Engaging with others: The interactions with other group members can be very therapeutic and healing for the clients. Research has shown that this engagement alone is very powerful for treatment.
Social support: The social support that group members experience helps to remind them that they are not alone in facing the challenges of their treating issues. They develop a sense of community and connection to others which helps them to feel supported in what can be a lonely situation.
Reduces shame and stigma: When a client comes to group therapy, they can find acceptance and support from others who face similar issues. They might share similar challenges, experiences, or symptoms with the other group members. Consequently, they can feel connected, supported, and accepted through the group experience. They might not have this experience outside of the group. Just knowing that they have the acceptance of group members can help them to feel less ashamed, guilty, or stigmatized by their presenting issue.
Motivating: When a client participates in group therapy activities and sees other members improve, reach treatment goals, or have success, they can feel very motivated to continue on their journey. This motivation can help to provide hope that improvement and change are possible.
Learning: Whether the group is a support group, psychoeducational, skills development group, or therapeutic group, the group process presents an opportunity for learning. Group members can learn from each other regarding what has worked and what has not worked in their lives. They can teach other group members about their experiences which enhances their learning experience in the group.
Cost-effectiveness: Quite often the cost of group therapy may be less than individual therapy. It can increase someone's ability to access treatment or engage in treatment for a longer period of time.
Group therapy benefits for therapists
As a therapist, you can experience some benefits and advantages as well when providing group therapy activities:
Help more clients at one time
Empowering to experience the dynamics of group change
Option of a co-leader
Can earn more money in one group session than in one therapy session
Can continue to have a session even if one or more members do not show up for the appointment
Are there drawbacks to group therapy activities?
While many clients and therapists experience positive outcomes from group therapy activities, there are some downsides to be aware of as well.
Some disadvantages of group therapy activities for clients include:
Not feeling comfortable speaking in a group situation
Risk of reduced confidentiality
Not getting along with other group members
Having a more difficult time establishing the therapeutic relationship
More difficulty trusting the therapist
As a therapist you might want to consider some risk factors and disadvantages for you and your practice when you run group therapy activities:
Training: Before running group therapy, you should invest in appropriate training, supervision, and resources to learn about the techniques, strategies, and best practices for group therapy.
Assessment process: As part of the treatment protocol, clients should participate in an individual assessment and evaluation process with you. This process can take some extra time but ensures that the group is the best approach for each individual participant.
Time to establish: While sometimes, you may have an easy time filling a new group, it often takes some extra work on your part to create, establish, and maintain successful group therapy activities.
Documentation: Keeping up with the documentation for group therapy activities can be a lot of work. Doing an assessment, treatment plan, and note each member of the group takes a lot of time. Using an EHR or practice management software like TheraPlatform can make this task easier.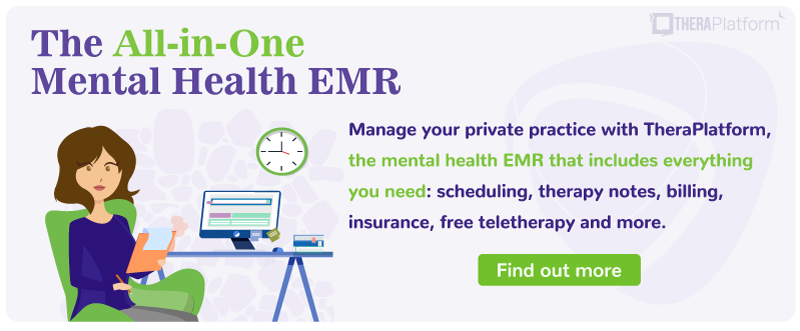 Group therapy activities
You can incorporate many different group therapy activities into your therapy group.
Incorporating group therapy activities as part of the group process can help to:
Encourage communication and interaction among group members
Increase the trust among group members
Promote growth
Build respect
As a therapist, you should consider the age appropriateness of different group therapy activities as well as the suitability for areas such as cognitive functioning, mental health symptoms, or the group focus (ex: addiction, trauma, social skills). You can modify group therapy activities that you discover or have successfully used in one group to meet the needs of another group. Some common activities to consider for your group include:
Group therapy activities for adults
Fun Facts: During Fun Facts clients fill out a slip with a fun fact about themselves. Then group members must figure out who wrote it.
People Search: In People Search each member receives a list of traits, characteristics, or experiences from the therapist. The group members have a certain amount of time to find someone in the group who matches the items on their list. When the match is found, that person will then sign off for that item. The first person to have their list completely signed wins.
Affirmations: Affirmations is a group therapy activity with many variations. In one version, the therapist gives each client a sheet of paper. Clients write their name on it and then all the papers are passed around so each group member has the opportunity to write affirmations for that person on their sheet. Once their original papers are returned, they can read and explore the meaning with the group. This can lead to a therapeutic discussion about how others view them and how they feel about themselves.
Group therapy activities for children
Stand Up, Sit Down: During Stand Up, Sit Down, the group leader makes a statement about a characteristic of a person. For example, the leader could say, "blonde hair". Anyone who meets the characteristic can stand. You can certainly create more relevant characteristics, symptoms, or qualities that are more relevant to the group which can lead to deeper group explorations. For example, in a group about depression, you can say "trouble sleeping". You can use the exercise to demonstrate commonalities amongst group members or to probe for deeper discussion.
Hot Potato: Hot Potato involves passing an item around the group until the music stops. Whoever is holding the item when the music stops shares something about themselves. The information shared can pertain to the group topic or be more general in nature.
Charades: Charades is highly adaptable for group therapy. Therapists or group members can come up with topics to be acted out during the group. Topics can pertain to shared experiences, symptoms, stressors, growth, or progress experienced among group members. For example, you can begin the group each week with one member acting out a "win" from the past week and the other members guessing what it is. Another option is for a member to act out a stressor or problematic situation experienced and for the other members to figure out what it is.
Group therapy activities for addiction
Triggers: Groups that address addiction can use the activity Triggers. In this activity, the group identifies and discusses common triggers for their particular addiction. Group members and leaders can then suggest different coping strategies they could use when feeling triggered to use.
Group therapy activities for anxiety and depression
Negative and positive beliefs: Discussing Negative and Positive Beliefs is often used in cognitive-behavioral therapy (CBT) groups that focus on depression and anxiety. In this activity, group members write out three negative beliefs they have and three positive responses to the beliefs. The group members each share their list and process responses together. Another variation is for the members to write out a negative belief and the group members to work together to develop a challenging alternate thought to the belief.
Healthy brainstorming: With Healthy Brainstorming, each person identifies something that they would like to accomplish to improve their diet, sleep, or exercise. The members can list as many items as they would like or you can go around the group multiple times. When the process finishes, each member chooses one habit they want to attempt for the next week and creates a plan to implement it.
Group therapy checklist for therapists
Plan it: Create a group plan that includes what type of group, the structure of the group, and the goals for the group.
Set group size: As you plan your group, determine how many members you would like to have in the group. Aim to have enough members to allow for the group experience but not so many that it becomes overwhelming for you and the group members. You can consider six to eight members as a typical group size.
Recruit group members: Finding enough members to fill your group is essential. Start with your current caseload of clients and then expand using your marketing tools. You can consider reaching out to other professionals who treat the target population for your group, using your website, announcing your group at networking events, or sharing it on social media.
Individual sessions: Meeting with an individual prior to enrolling them in the group gives the opportunity for you to assess and evaluate the person and decide if they are a good fit for the group. It also gives you and the individual client time to discuss expectations and any concerns regarding the group process. Additionally, the individual session allows you to generate a diagnosis and treatment plan for the group member.
Set up the room ahead of time: Prior to the session beginning, take the time to prepare the group room. Arrange any chairs, tools, and resources ahead of time so that group members feel welcome when walking into the room. Consider how you can help the members to feel connected and included in group therapy activities without feeling like their privacy or personal space is being invaded. Many groups use a circle or semicircle format.
Begin on time: Start and end the session in a timely manner. When you adhere to the time limits of the group you set the tone and expectation for the members of taking the group seriously. You may want to consider how you will handle late arrivals to the group and create a policy to address it.
Create group rules: Prior to beginning the group, develop a list of group rules that you think will help the group to run smoothly and more efficiently. Use the time during the first group to discuss the rules. If you have an open group then you will want to review the rules any time you have a new member.
Introductions: Getting to know each other is one of the most important aspects of a group. If the group members feel comfortable and trust each other, the group is going to be much more effective. During the first group, give the members an opportunity to introduce themselves and share what you determine is relevant for the group.
Prepare for the group: Preparing for group therapy activities may take a little more time than preparing for an individual session. Depending on the type of group and what the group addresses, you may have a more detailed agenda. Regardless, spending some time creating your plan, the topic for the session, and any activities will help you to run a more effective group.
Facilitate participation: Some group members may want to talk more than others. As the group leader, you want to make sure that the less vocal members get an opportunity to participate.
Summarize and ask for feedback: Providing a verbal summary of each group session is a good idea as the group ends. It serves as a review and may invite further clarification or other questions. Getting member feedback is also valuable. You need to know how the group is being viewed. If members do not feel the group is addressing their needs, they are most likely to sabotage the therapy or drop out.
Start 30-day Free Trial and explore TheraPlatform. HIPAA Compliant Video and Practice Management Software for Therapists.
Group therapy resources
Many organizations support group therapy and offer resources to therapists.
Some of them include:
Additionally, you can conduct an internet search on group therapy exercises, books, and training available for you.
If you make the decision to begin offering group therapy in your practice, then make sure you take the time to review resources, participate in training, and carefully develop your group program.
Sources
DeAngelis, T. "Making Group Therapy a Winning Part of Your Practice." Good Practice, Winter 2018. Accessed December 5, 2022.
Johnson, B. "Psychotherapy: Understanding Group Therapy." October 31, 2019. Accessed December 5, 2022.
Paturel, A. "Power In Numbers." American Psychological Association, November 2012, Accessed December 5, 2022.
If you're looking for ways to simplify documentation and scheduling your group therapy sessions, TheraPlatform, an all-in-one EHR, practice management and teletherapy platform offers excellent tools. They also offer a 30-day free trial. No credit card required and cancel anytime.
Resources
More resources
Free video classes