Telepractice&nbsp
Telepractice for speech and language pathology

Telepractice platform
Telepractice or the use of video or telecommunications technology to deliver speech therapy to a client in another location, has spiked in popularity over the past several years. Telepractice was approved by the American Speech-Language-Hearing Association (ASHA) as an appropriate method of service delivery in 2005 and was added to its directory of special interest groups (SG-18) (2011.)
"Telepractice is an appropriate model of service delivery for the professions of speech-language pathology [and audiology]. Telepractice may be used to overcome barriers of access to services caused by distance, unavailability of specialists and, or subspecialists, and impaired mobility".(ASHA, Speech-Language Pathologists Providing Clinical Services via Telepractice: Position Statement [Position Statement], 2005).
As an effective and ethical mode of treatment, telepractice benefits clients by providing them with easy accessibility, flexibility, safety, efficiency and privacy in their sessions. Therapists can enjoy these benefits as well with the added bonus of lower overhead and the ability to expand their practices beyond their local markets.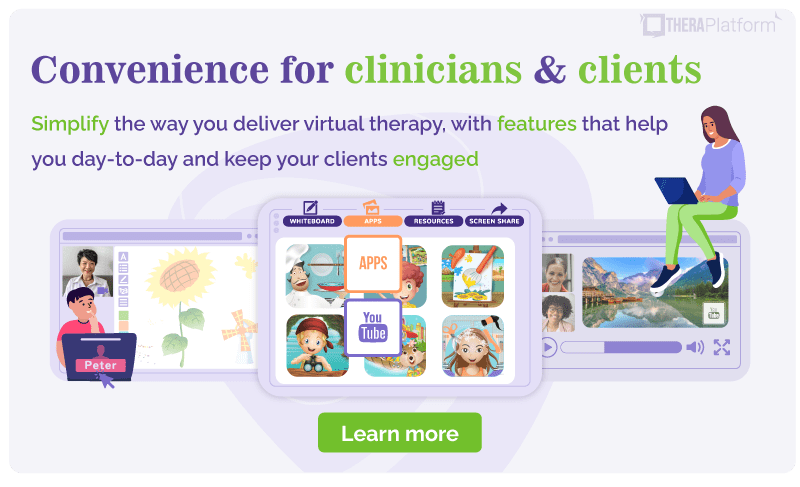 Who provides telepractice or online speech therapy services?
Several types of therapists or professionals with different specialties can use telepractice in their businesses. Examples include:
Speech and language pathologists:
To provide speech and language services to rural schools,
To provide voice, aphasia or cognitive therapy to satellite clinics from hospitals or private practices or to individuals in underserved or remote areas,
To provide speech, language or cognitive services to remote home health agencies, and
To consult and train individuals or families, for instance, communication coaching, augmentative and alternative communication (AAC), early childhood parent training, etc.
Audiologists:
To provide hearing screening,
To provide infant hearing screening,
To provide hearing aid training, etc.
Equipment and technology
Security and functionality are key considerations when transitioning to and using telepractice for your business.
Hardware
Computer
Web camera with 15 FPS (frames per second) capture rate (built in or separate)
Headset with attached microphone (analog or USB)
High-speed internet connection (150 kbps minimum)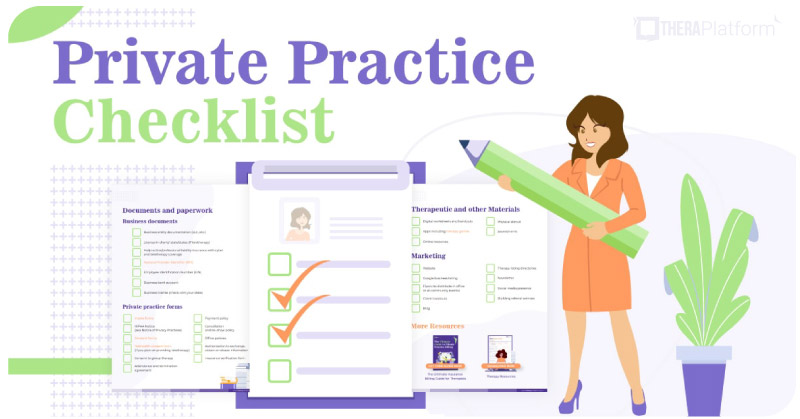 Telepractice Platform
In addition to basic hardware, teletherapists need a video conferencing tool. Some teletherapists use Skype or other general-use video conferencing tools to provide online speech therapy (telepractice). However, they typically do not comply with HIPAA and may put your clients at risk for privacy and confidentiality breaches. Additionally, this type of video conferencing software provides only basic chat and screen sharing functionality, limiting the ability for the client and therapist to change and exchange materials simultaneously.

HIPAA-compliant platforms like the TheraPlatform may be better options as they are more secure and provide written business associate agreements (BAA) as well as fully interactive apps for desktop and mobile. Developed by a speech and language pathologist with therapists in mind, TheraPlatform apps track data. In addition, teletherapists can use and share their own materials, such as flashcards, worksheets and Powerpoint presentations.
TheraPlatform's Apps
Candidacy
As revolutionary as telepractice is, some clients may present physical or cognitive challenges that prevent them from benefiting from telepractice (online speech therapy). Sustaining attention, following simple commands and manipulating a computer mouse are some of the physical and cognitive requirements for participating in teletherapy. Teletherapists should develop their own protocols to determine candidacy for telepractice.
Environment of telepractice session
In order to provide high-quality telepractice (online speech therapy), the therapist should consider the environment and the location,of the client and the clinician. Light, distractions, noise level, comfort and safety should be evaluated and modified as needed prior to beginning a session.
Use of Facilitators
Younger children working from home may need the supervision of their parents, especially in the beginning of the program. The parent may need to teach the child basic computer skills for speech telepractice and prepare the child for his or her sessions. Children who receive speech telepractice services from their school will need supervision as well. Facilitators may include a teacher's aide or other type of support personnel on site.

The aide may:
Escort children to and from therapy sessions
Set up equipment for sessions
Troubleshoot as needed
Control child's behavior as needed and
Communicate with on-staff teachers and staff about scheduling and changes.
See our checklist for other telepractice considerations and requirements.
Telepractice speech therapy activities or therapeutic materials
The good news about teletherapy is that it provides numerous opportunities to engage the clients once the basics of telepractice have been established. Some EHRs, like TheraPlatform provide games and apps as part of their plans. Numerous speech therapy game resources make it easy to incorporate activities into your speech sessions as well. PBSkids.org, Boomlearning and Funbrain.com are a few examples. For more ideas, check out our video below.
While it's fun to experiment as you become more experienced with telepractice activities, there are some tried and true activities you can use as you ramp up.
Icebreakers are generally a great way for group therapy clients to open in a safe environment and develop trust with other members of the group as well as the therapist. And it's generally accepted that better relationships with therapists lead to better outcomes. Examples of icebreakers or games include Hangman, Tic-tac-toe or pictionary.
Telepractice speech activities aren't reserved for the beginning of each session. Taking brain breaks can be another way to incorporate activities during sessions for the benefit of the client. Brain breaks, which are short, simple exercises, are believed to improve client brain function, retention, attention span, engagement and motivation while reducing disruptive behavior. They can include actions like humming, dancing or 5-minute long scavenger hunts. Looking for more brain break ideas? Watch our video to see our favorites.
Language and social skills clients could also benefit from therapy games. Through activities, clients can develop emotional skills and empathy through games like Emotions Bingo and Taking a Break to Calm Down. Conversation skills can be developed through telepractice activities like Making Connecting Comments or Think It or Say It. The methods through which these sessions are conducted are numerous as well and can be accomplished through handouts or by watching YouTube videos. Short animated films are, indeed, a total hidden gem in the pediatric teletherapy world. See a list of our favorites.


Early intervention clients can also benefit from telepractice. While some therapists worry telepractice may not be a good fit for their 0- to 3-year-old clients, engaging with parents during your sessions is a great way to improve outcomes. Building relationships with parents helps you:
Understand what's important to the parents

Generate treatment ideas

Build accountability

Reduce the amount of time you spend on planning sessions
To maximize the outcomes of these sessions, consider sharing resources with the parents around the aspects of telepractice speech therapy including techology, the home environment, parent involvement and the child's behavior. Teletherapy changes the dynamics of a therapy session and as a therapist, you have the power to make it a positive change. Managing expectations upfront can help the family feel comfortable and encourage open-communication.
Looking for tips on how to maximize your time with parents, see our interview with Dr. Todd Houston below.
Start 30-day Free Trial and explore TheraPlatform. HIPAA Compliant Video and Practice Management Software for Therapists.
Documentation

As you consider and use telepractice, ASHA advises that teletherapists provide clients with an informed consent form prior to conducting speech therapy online.
Clients should also be informed regarding:
Differences between telepractice and traditional therapy
Potential confidentiality issues, and descriptions of the equipment involved
LicensureCurrently, speech and language pathologists providing telepractice or online speech therapy must be licensed in the state of their client's residency.
Marketing

Because of the growing popularity of telepractice, you may consider marketing this aspect of your practice. Creating a digital presence is a great place to start and includes creating a website with regularly produced content that people would trade for an email address and promoting your business on social media.
Traditional or offline marketing strategies are also a good way to generate business. Printed and promotional products, networking and referrals along with partnering with a trustworthy telepractice platform that builds client trust are excellent ways to help advertise your business.
Managing your telepractice business and getting paid for your telepractice services

Running a private practice requires therapists to wear many hats. You need to send intake and consent forms to clients, document therapy notes, and bill your clients. Sometimes you may not see a client in person at all and the ability to charge for a service before the session helps ensure payment. TheraPlatform, an all-in-one telepractice platform, addresses this specific need in its virtual waiting room or after the session. Additionally, TheraPlatform can be used to run the rest of your telepractice including scheduling appointments, sending reminders, documenting, billing and insurance billing. You can sign up for a 30 day-free trial now.
More resources
Free video classes