Psychotherapy CPT (Current Procedural Terminology) codes are commonly used for billing by mental health therapists and include the 90837 CPT code as well as the 90834 CPT code.

Any behavioral health practitioner who has worked in an institutional setting or dealt with insurance knows about psychotherapy CPT codes. They can be tedious and difficult to learn but mental health clinicians are pretty lucky compared to some providers. Unlike many medical doctors, you likely won't use more than a handful in your everyday work. Let's explore the importance of psychotherapy CPT codes (CPT codes for mental health) and some tips for using them effectively.

What are CPT Codes?
In 1966, the American Medical Association created CPT codes to help standardize billing across different disciplines and work environments. In health settings, these represent what type of services clinicians are providing their clients. The codes may refer to both diagnostic practices and medical procedures. For example, an individual psychotherapy session has a certain code. So does a routine visit to the doctor or an angioplasty.
Why Do We Need CPT Codes?
The primary reason for psychotherapy CPT codes is so insurance companies know what they need to reimburse practitioners for services. So, if you want to be paid what you deserve, you need to ensure you are using the proper psychotherapy CPT codes. Additionally, insurance companies do not like to pay for anything more than they have to. If they suspect you are using codes incorrectly, your services may be subject to an audit. If you depend on insurance for your paycheck, you will need to learn the relevant psychotherapy CPT codes.

The most popular psychotherapy CPT codes for mental health

| CPT CODE | Time | Note |
| --- | --- | --- |
| 90837 | 60-minute psychotherapy session | Usually a 60-minute session, although sessions longer than 52 minutes can be billed with this code. Meetings must be face to face. |
| 90834 | 45-minute psychotherapy session (38 to 52 minutes) | Similar to above except for a shorter time. This may be the most used code in mental health. |
| 90832 | 30-minute psychotherapy session (16 to 37 minutes) | The 30-minute session is rarer but increasing in frequency in the telemedicine age. You can see someone for only 16 minutes and still use this code. |
| CODE | Designation | Note |
| 90791 | Psychiatric Diagnostic Evaluation | The code for the traditional intake session (e.g., assessing the presenting problem and/or providing a mental status exam.) |
| 90792 | Psychiatric Diagnostic Evaluation with Medical Services | How a psychiatrist may code an intake session. The difference from 90791 is that a psychiatrist is a medical doctor who might assess the need for medical services, such as prescription medication. |
| 90847 | Family or couples psychotherapy, with the patient present (50 minutes) | This code is used for family therapy techniques in a session with multiple family members or a couple. The identified patient must be present. |
| 90846 | Family or couples psychotherapy, without the patient present (50 minutes) | Used for family therapy techniques in a session with multiple family members without the identified patient. This code is more controversial because the identified patient is not present. If you use this code too often, an insurance company may question why you are not including the identified patient. |
| 90853 | Group Psychotherapy (not family) | A treatment group for unrelated people, such as addiction or dialectical behavior therapy. Not the same as a support group. |
| 90839 | Psychotherapy for Crisis, 60 minutes (30-74 minutes) | This code is used in a crisis situation. If a patient is suicidal, for instance, and they require therapy to prevent self-harm and ensure stabilization. |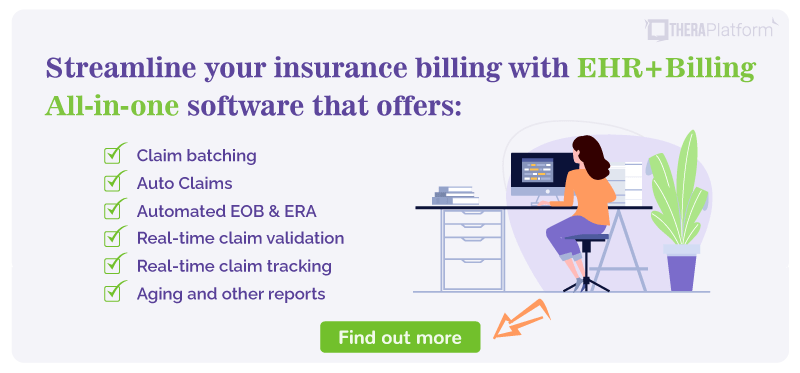 Telehealth with modifiers and codes
The pandemic ushered in the broad use of telehealth. The AMA has addressed the use of telemedicine by using modifiers rather than introducing entirely new codes. In behavioral health, the modifier 95 is added to the original code to signify teletherapy.
For example, you would add the 95 modifier to 90834 to signify a 45-minute teletherapy session (i.e., 90834-95). To be billed with this modifier, a face-to-face video session needs to have occurred. Texting is not yet recognized as a billable service.
If you plan on providing teletherapy services to your clients make sure that they sign telehealth consent form.
Place of service codes
You will also need to add a place of service code. This tells the insurance company where the service occurred. Traditionally, providers may perform their work at a school, office, or hospital and should use the corresponding modifier. If you are performing telehealth, you would use the codes 02 and 10.
POS 02 indicates that the client received health or health-related services outside of their home using telehealth.
POS 10 indicates that health services and health-related services were provided in the home (specifically a location other than a hospital or other facility where the patient receives care in a private residence) using telehealth.
Keep in mind, that if you are providing a service in a facility (e.g., a hospital or nursing home), you will get paid a bit less than if you perform that same service in an office setting due to a lack of overhead.
Start 30-day Free Trial and explore TheraPlatform. HIPAA Compliant Video and Practice Management Software for Therapists.
How to avoid psychotherapy CPT code errors
Be Accurate: Insurance companies keep close track of how you bill services. Do not try to overcode to make more money (e.g., billing a 60-minute session when it was only 45) or undercode to try to reduce patient costs. If you are providing incorrect psychotherapy CPT codes, you may be audited and kicked off an insurance panel and possibly charged for fraud.
Don't confuse CPT and DSM/ICD codes: Psychotherapy CPT codes relay the types of service provided whereas ICD codes report what condition those services are treating. Although they are different, they are related. Documentation about a patient's diagnosis needs to reflect the level of care they are receiving. For example, if you give a patient a less severe diagnosis (e.g., persistent depressive disorder) and are then trying to see them for 60-minute sessions five times a week, that might raise a red flag.
Complete all data accurately: If you work in an institution or a large private practice, you likely have staff members who are in charge of insurance billing. They are usually very skilled but cannot fill in codes without access to proper information. If you don't fill out all the pertinent codes, the staff will be frustrated and your payment may be delayed.
Consider tools with auto-populated CPT codes: EMR/practice management software for your private practice can help you manage your psychotherapy CPT codes electronically. TheraPlatform Mental Health Software for practice management and EMR allows you to enter your own CPT codes and these will auto-populate to the CMS-1500 (also available on TheraPlatform). As a bonus- TheraPlatform offers integrated telehealth with no additional charge. You can try TheraPlatform for free for 30 days.
More resources