Occupational therapy SOAP note, an overview of SOAP notes; questions to ask when writing each section; the do's and don'ts of writing soap notes; the benefits of using SOAP notes in occupational therapy; and an example of an occupational therapy SOAP note will be covered in this post.

The SOAP note method of documentation can be an excellent fit for the occupational therapy profession. Why does it work well for OTs? We are always looking at the big picture. SOAP is an acronym that stands for subjective; objective; assessment; plan. These are all important components of occupational therapy intervention and should be appropriately documented. Using a SOAP note format will help ensure that no essential element of therapy is left undocumented.
When composing an occupational therapy SOAP note, questions to ask yourself may include:

S: Subjective
What is the client reporting?
What are the client's parents or caregivers reporting?
Is the client reporting pain?
Are they complaining of fatigue?

O: Objective
What level of assistance did the client need?
How many verbal and physical prompts were provided?
What did you observe?
How did you grade the activity or modify the environment?
In what percentage of trials was the client successful?
What is progress is the client currently making on their goals?

A: Assessment
After examining the subjective and objective data, what does this mean about your client's progress?
Why did you select a certain intervention activity?
Have there been any significant changes in functioning?

P: Plan
Should the treatment plan be changed? How?
Does a new referral need to be made?
Are any accommodations or modifications recommended?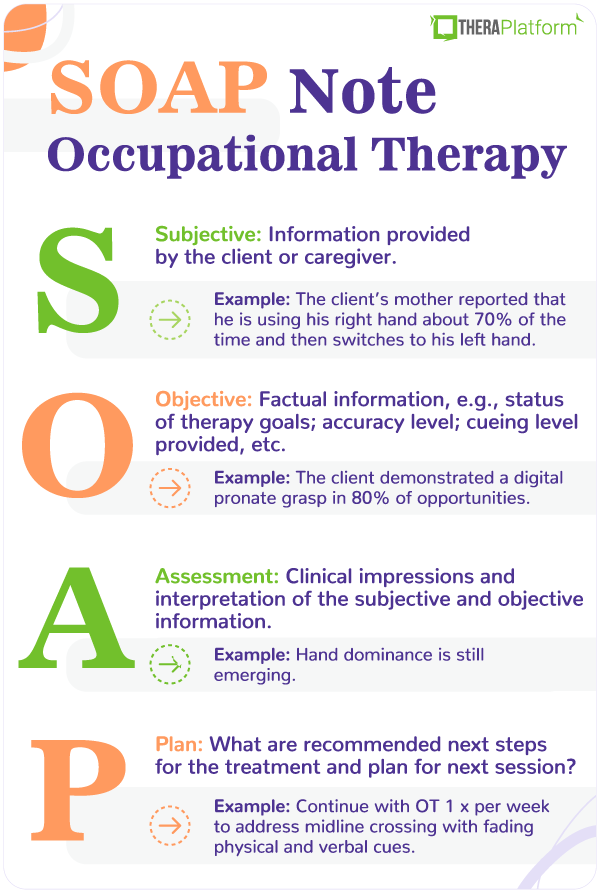 The Do's and Don'ts of occupational therapy SOAP Notes
• Remember, the SOAP acronym isn't completely exclusive when it comes to what you need in your documentation. Do remember to the patient's name, date of birth, date and time of the service, as well as your own credentials and signature.
• Do use the SOAP note format in order. It is commonly recognized by a variety of health professionals. Following the standard order can help your interdisciplinary team find the information that they need, fast.
• Don't put your observations or assessment into the subjective section. The subjective category is a way to capture your client's voice, perspectives, and goals.
• Don't neglect to provide quantitative data. This will help you select future interventions and keep track of patient progress.
• Do include justification that the services are medically necessary. This is essential for reimbursement by third-party payers.
• Don't copy and paste. While some of the information may look similar from session to session, it is disadvantageous to leave out specific data from a given session. Accurately document your client's progress by ensuring that each SOAP note is unique to that therapy session.

Benefits of Occupational Therapy SOAP Notes

• SOAP notes can be beneficial in the event of an insurance audit. The narrative format helps capture a unique session and each SOAP note should be distinct. The subjective data especially helps to verify that the therapy session occurred.
• A complete SOAP note should clarify the skilled processes of occupational therapy. In addition to adding credibility that the session happened, in the event of an insurance audit auditors will be looking for skilled intervention. This will be covered in your assessment section.
• Managing a large caseload? SOAP notes make a great tool for intervention planning. When planning an upcoming session you will look at your previous SOAP note to determine your plan. At this point you will have already used your clinical reasoning to make an assessment and plan for the upcoming session.
• SOAP notes are helpful for writing progress and discharge notes. With the narrative form of a SOAP note, you can easily access quantitative and qualitative data that relate directly back to functioning.
• SOAP notes are a commonly used format among health professionals and are meant to be short and succinct. This can help you or another healthcare provider quickly and easily find the information that is needed.


Start 30-day Free Trial and explore TheraPlatform. HIPAA Compliant Video and Practice Management Software for Therapists.
SOAP Note Example in Occupational Therapy
Here is an example of occupational therapy SOAP note . This client has two goals. Briefly: Crossing the midline while participating in functional activities at school and using a functional grasp with a variety of writing utensils.
S:
Upon entering the clinic, the client stated "I just woke up and am very tired." The caregiver reported that the client is using his right hand about 70% of the time and switching to his left hand the rest of the time.
O:
The client demonstrated a digital pronate grasp in 80% of opportunities and a violin grasp with all four fingers on the writing utensil in 20% of opportunities. Movement for coloring was generated from the client's elbow and shoulder. Client uses his left hand with more frequency when the writing utensil is placed on his left side. The client fell out of his chair three times during the session and supported his neck with his hands while his elbows were propped on the table. He rested his head on the table in four occurrences. Physical (1) and verbal prompts (1 in 50% of trials) needed for crossing the midline.
A:
Hand dominance is still emerging and hand preference is often selected based on where the materials are (i.e. If the client has to cross the midline). The client demonstrates lack of proximal stability and postural control. This is contributing to difficulty isolating the smaller muscles of the hand for a functional grasp and therefore the ability to fully participate in coloring activities at school.
P:
Provide midline crossing education and activity ideas to caregiver and teachers. Continue with OT 1x per week for 60 minutes to address midline crossing with fading physical and verbal cues as well as grasp. Monitor postural control and refer to PT if lack of stability persists. Provide client with short utensils to promote emerging grasp.
How to document your occupational therapy SOAP notes? You can use paper templates or sign up for an EHR software with therapy notes function.
TheraPlatform
for example is an all-inclusive EHR, practice management and teletherapy platform which includes documentation and the ability to write SOAP notes; HIPAA-compliant video-conferencing software; built-in apps; invoicing; scheduling and much more. TheraPlatform also offers built- in note templates, which can be customized, and a copy note feature that saves clinicians time when documenting as they can copy notes from previous sessions and edit them as needed.
To check out an all-in-one platform, start your 30 day
free trial
to Theraplatform.
What are your tips and tricks for ensuring your documentation is excellent? Share in the comments below.