Teletherapy speech activities are great for speech therapists looking to branch out to teletherapy for the first time, or seasoned teletherapists looking for some new resources.
When you find motivating activities that target a variety of speech and language goals, it can be a game changer for your teletherapy sessions. Your clients can be more engaged, therapy can be more effective, and it can make your life as a therapist a whole lot easier.
Teletherapy has been around for a while, but has grown rapidly the past few years. In fact, telehealth is being utilized at a rate that's 38 times higher than before the pandemic.
With more healthcare providers conducting appointments for services virtually, a plethora of new online speech therapy games have been developed along the way.
We're going to review the best of the best. Be sure to save them, bookmark them, and be prepared to use them to make teletherapy sessions for speech therapy a breeze.
Benefits of using teletherapy speech activities
If you've ever used teletherapy speech activities for your sessions, then you know that these activities can be worth their weight in gold when you find the right one!
Some of the benefits of using teletherapy speech activities include:
Saving time: Minimal prep time required by the SLP
Easily accessible: Instantly start an activity by using a screen-sharing feature
Organized set of materials: No need to search through books or copies when you can easily bookmark and save links online
Increased motivation and engagement from clients during sessions
Affordable activities: Many are free
Diversity: Ability to target a wide range of speech therapy goals
Instant homework
Clients can continue engaging in teletherapy speech activities between sessions to practice targeted goals and improve their progress.
With so many teletherapy speech activities available, where should you start?
We've narrowed it down to the top online speech therapy resources for teletherapy!
Best teletherapy speech activities
Short Animated Films
Short animated films are a hidden gem in the world of teletherapy speech activities.
Most pediatric SLPs have at least a few clients who are big fans of YouTube. It happens to also be a great resource for dialogue-free, short videos that you can use to target a variety of speech and language goals.
Here are our top recommended videos on Youtube to use in Teletherapy:
You can create a folder within your video resources on
Theraplatform
called "Shorts'' and add all of the videos on this list. That way, they're there when you're ready to use them in a therapy session.
Therapy goals that can be targeted through using short animated films during teletherapy sessions are
"Wh" questions: Pause during the film or wait until after and ask
Story retell/Note-taking skills/Main idea and details
Sequencing
Inferencing/Predicting
Empathy/Emotion education/Social skills/Problem solving
Sentence formulation/Vocabulary
Find more on how to use short animated films in teletherapy for speech therapy on the TheraPlatform blog.
Teachers Pay Teachers (TPT)
On Teachers Pay Teachers, you'll find activities that you can download to target just about any speech or language goal you can think of!
The activities are created by other therapists and educators, and can be pulled up through a screen sharing feature during a teletherapy session. For example, if you're targeting a client's articulation of the /r/ sound, you can download an activity involving riddles with the /r/ sound.
The website offers green screens that can take your teletherapy session to the next level, making it even more fun and engaging!
There's also Easel by TPT, a collection of interactive online learning tools. With this program, SLPs can even create their own digital materials from scratch.
Speech therapy software
Boom Cards
Head to the Boom Learning website and you'll find an amazing store of Boom Cards. Boom Cards are digital games and interactive activities.
Search for the skill you're targeting in therapy and you'll find free and paid Boom Card activities available to address that specific goal.
For example, there's an interactive Mr. Potato Head activity that can be used to target identification of body parts, expressive vocabulary, following directions, and more!
Save your favorites to your library, where you can organize them into folders according to the area or skill they address. That way, you can pull up the most appropriate activity during a teletherapy session with the click of a button.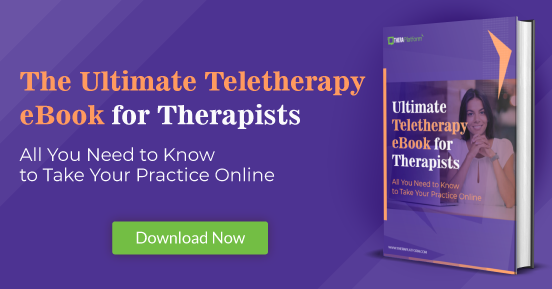 Toys and board games
Board games are a speech-language pathologist's go-to during in person therapy sessions. What's great is that they can also be used during teletherapy speech activities.
Digital interactive versions of games like Connect 4 can be found on the website Ultimate SLP along with tons of other online activities for SLPs, like "What's Wrong" pictures that target specific speech sounds.
You can allow your client to share control of the remote so that he or she can interact with an online game from their own computer as well. That can keep your client engaged and excited to participate.
Targeting articulation? Forget about the traditional deck of picture cards. Kokolingo, an island-themed digital platform for articulation therapy, features over 100 games to target speech sounds. The best part? There's video modeling from a pirate to help teach the client how to produce speech sounds!
Art projects
Do you have a client who loves arts and crafts? Good news! You can tap into your client's creative side by engaging him or her in art based activities over teletherapy.
ABCYa Paint helps bring kids' stories alive by allowing them to use tools like coloring pages, paint, and stickers. What a great way to target speech therapy goals like using present progressive verbs or descriptive vocabulary!
Built-in apps
When searching for online speech therapy games, you can find several great ones through websites with built-in apps. For more of the best online speech therapy games, head here for a list on the TheraPlatform blog.
Start 30-day Free Trial and explore TheraPlatform. HIPAA Compliant Video and Practice Management Software for Therapists.
Resources
Looking for even more helpful teletherapy resources for speech therapy?
TheraPlatform is a fully integrated teletherapy, EHR and practice management tool for therapists that helps streamline daily processes for those who have a private practice. They offer HIPAA-compliant video conferencing, scheduling, electronic documentation, billing, a client portal, and teletherapy speech activities. Sign up for a free, 30-day trial with no credit card required. Cancel anytime.
More resources