Therapy malpractice insurance is a must for therapists and mental health counselors starting a business. As you're creating your "to-do" list, don't miss a very important component of practicing independently.
Professional liability or therapy malpractice insurance protects professional services such as mental health, counseling, therapy, etc. But what about teletherapy or cyber liability coverage?
If you've previously worked at a private practice, school, or hospital, your employer most likely provided therapy malpractice insurance (also known as professional liability insurance). The employer likely took care of this by working with a liability insurance company to ensure all employees are covered.
Online therapy (teletherapy, telehealth) is booming and to the benefit of mental health professionals and their clients. With online platforms like TheraPlatform , therapists have the flexibility to work from just about anywhere and their clients can book sessions with ease and convenience. It's important to know if your professional liability insurance provider is there to support your practice. CPH & Associates and TheraPlatform have teamed up to provide affordable and comprehensive coverage.
As an independent provider offering teletherapy, you're now responsible for looking at therapy malpractice insurance. There are several reasons why you should consider getting it.
What is therapy malpractice insurance?
Therapy malpractice insurance is a type of insurance coverage that provides legal protection which would allow you to continue practicing while a legal issue with your practice is being resolved.
Legal issues can range in severity. A larger issue (like a lawsuit filed against you by a client) can lead to a time consuming, expensive legal battle.
Therapy malpractice insurance is also sometimes referred to as professional liability insurance. Both terms refer to the same thing: protection for your professional services.
Mental health professionals and therapists dedicate their careers to helping their clients. With professional liability insurance, you have peace of mind knowing you're protected in the event of a claim or suit, or a grievance from a regulatory board.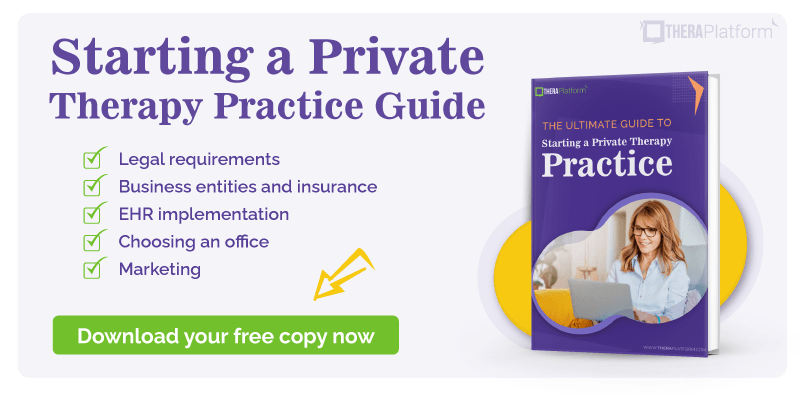 How does therapy malpractice insurance work?
Step 1: Contact a therapy malpractice insurance provider. Many providers offer a free quote, and will discuss coverage for your practice.
Step 2: Once you choose a provider and obtain coverage, continue to treat clients.
Step 3: If you run into a legal issue (like a current or former client filing a claim against you), contact your therapy malpractice insurance provider. Your coverage may allow you to continue treating clients and running your business as they provide assistance for you to work through the current legal issue you're facing.
What does therapy malpractice insurance cover?
Therapy malpractice insurance for therapists and mental health counselors can provide numerous benefits.
Depending on the coverage you select, liability insurance can cover things such as:
Providing legal assistance
Defense against the cost of a claim filed against you
Help with finding legal representation that specializes in your profession and legal situation
License protection (representation on your behalf against state licensing boards)
Therapy malpractice insurance through the company CPH & Associates has Coverage Highlights that include:
Portable, occurrence lifetime coverage follows your licensure or certification
Unlimited defense coverage
$35,000 state licensing board defense coverage
Optional general liability and property coverage (The CPH TOP™)
Deposition/subpoena expense coverage
Attorney helpline – 2 free hours of attorney consultation
A++ rated carrier for Financial Stability by A.M. Best Co.
Types of Liability Insurance
Below are three types of liability insurance to know and consider.
General Liability Insurance: Protects against financial damages for issues like a client filing a claim due to personal injury or property damage. For example, a client who trips and falls, hurting themselves due to a safety hazard at your office.
Professional Liability Insurance: Provides you with financial protection if a client takes legal action against you because they claim your services resulted in a financial expense on their end.
CPH coverage includes coverage for teletherapy provided 1) such practice is authorized (or allowable) under the scope of your license in the state where you practice, 2) you are performing such services lawfully and the online platform you're utilizing is HIPAA compliant. Utilize your state-specific resources and contact your state licensing board if you are unsure.
Cyber Liability Insurance: If electronic data stored on your computer is lost, stolen, or compromised, the cost of restoring it can be significant. You may also be held liable for damages to third parties – those individuals whose data has been compromised. An example is a damage to your electronic data files caused by a hacker. Or, a lawsuit in which a client sues you for negligence after his personal data is stolen from your computer system and released online. CPH's Cyber liability is protection for you in the event of a breach of your client's electronically-stored information.
Coverage highlights include:
Security event costs: Reimbursement for costs that are a result of Security Breach, Privacy Breach or breach of privacy regulations
Network Security and Privacy Liability Coverage: Coverage for damages you are legally obligated to pay as a result of a security breach or privacy breach
Customer Notification Expense Sublimit: Expenses to notify customers of actual or suspected breach to their non-public information
Public Relationship Expenses: Expenses to re-establish your reputation or public image that was damaged as a result of a breach
You must have a professional liability policy with CPH & Associates in order to add the claims-made cyber liability endorsement. Two limits are currently available*, $15,000 ($87/year) and $25,000 ($141/year).
*CPH's cyber liability is NOT currently available in the following states: Colorado, Florida, New Hampshire and Virginia and will never be offered to the states of Alaska, Louisiana, North Dakota, New York and New Mexico.
Considerations when choosing therapy malpractice insurance
Certain things you should consider when choosing therapy malpractice insurance include:
What type of liability insurance do I need? (general, professional, and/or cyber)
What do I need to have covered? (ex: licensing defense)
Costs of coverage
Potential add-ons for coverage that could be beneficial (ex: access to an attorney for advice as needed).
Make sure to watch out for therapy malpractice insurance providers who have poor ratings or low financial strength when you search for information on them. Also be sure that the level of coverage advertised applies for the state you are practicing in.
Start 30-day Free Trial and explore TheraPlatform. HIPAA Compliant Video and Practice Management Software for Therapists.
Average costs of therapy malpractice insurance
Some counselors and therapists can expect to pay between $400-$800 per year in therapy malpractice insurance.
This of course depends on the level of coverage they select for an individual plan. Therapy malpractice insurance, therefore, can cost a provider around $33 and up per month for potential protection against large legal costs.
CPH & Associates specializes in coverage for students, provisionally licensed interns and fully licensed professionals at competitive rates. The premium for self-employed or part-time providers starts at $115/year and increases according to specialty and caseload. Corporate coverage is also available to providers who own and operate their own practice (LLC, PLLC, or S-Corp) with premiums beginning at $320/year. Discounts for newly licensed professionals and those who have completed an approved risk management course in law or ethics, as well as group discounts are available.
Lawsuits: Potential costs
Lawsuits against a therapist or counselor vary according to the claim, however, they have the potential to be costly.
Some malpractice lawsuits in the area of physical therapy can be $100,000 or more. So finding the right legal protection, especially in cases like this, can be crucial to the financial future of your business.
It's difficult to pinpoint how likely you are to get sued as a therapist or counselor. But one thing is for sure - no matter how much dedication and time you put into your clients' care and protecting their information, things happen.
Some clients might be upset about the care you provided, or an accident can happen like your laptop being stolen, with clients' personal information stored on it. The truth is that the risks are always there.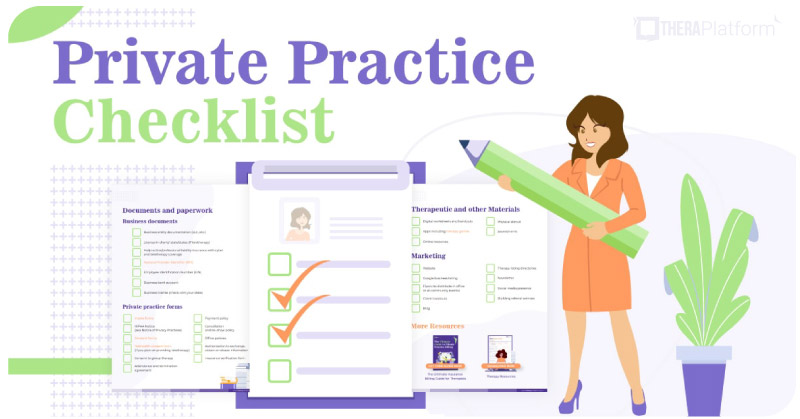 Simply put, therapy malpractice insurance is designed to protect you in the event you're held liable for damages caused by your professional services.
You can visit CPH & Associates online to get a quote and apply to protect your practice as an individual provider or business entity
Resources
TheraPlatform is a fully integrated, EHR, practice management and teletherapy tool that helps streamline daily processes for therapists in private practice.You can get started with a free trial of TheraPlatform with no credit card required. Cancel anytime.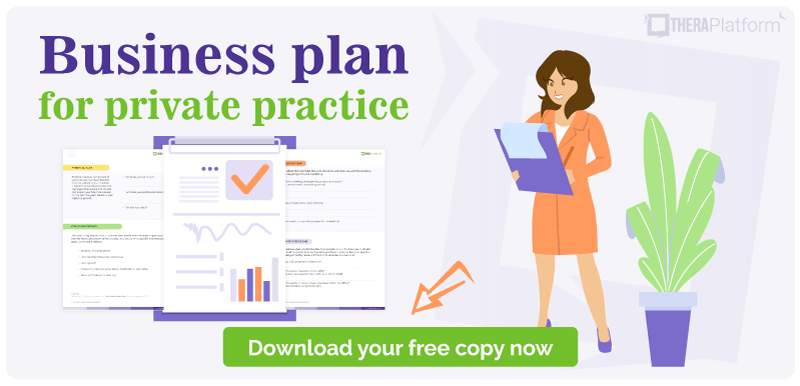 A portion of this blog was written and provided by CPH & Associates.
About CPH & Associates: Over the last decade, more than half a million mental and allied health professionals chose CPH & Associates for liability insurance. Because our business is specialized, we are able to focus on your liability needs in a way that bigger companies are not. Our team of associates represents over 50 years of collective experience in this field, and we are able to serve a large client base while maintaining a small-office approach.
More resources
Free video classes