How to get more therapy clients

How to get more therapy clients is a question many therapists ask as they think about growth. You may want to increase your revenue, help more people, or add another source of income to your practice. It may seem overwhelming to begin this process. Taking time to create a plan and implement processes can help you scale your journey and answer questions around how to get more therapy clients.
Understand and organize your financials
Learning about your practice revenue will help you to better understand how to get more therapy clients and increase your profits and earning potential as you grow. As the practice grows, the operating expenses will increase. Before increasing your operating expenses, have a solid understanding of any business debts (and a plan to pay off the debts), your revenue, and what losses you experience each month. 
Implement time management practices
As you scale your business and discover how to get more therapy clients, you will find more and more tasks on your to-do list. Before adding more tasks, understand how you spend your time each day and explore the best practice for you to manage your time.
Have a plan
Some therapists may choose to write a detailed business plan describing their practice and intentions for how to get more therapy clients to scale. Some therapists may choose to use goal planning sheets. Or, some may simply write an outline with steps. Whichever method you choose, creating a plan with action steps on how to get more therapy clients will guide you to scale with intention and increase the likelihood of success.
Seek support
No need to work on scaling your plan alone! Support comes from many sources:
Paid consultation
Business coaches
Mastermind groups
Professional peer groups
Social media communities
Paid courses/group program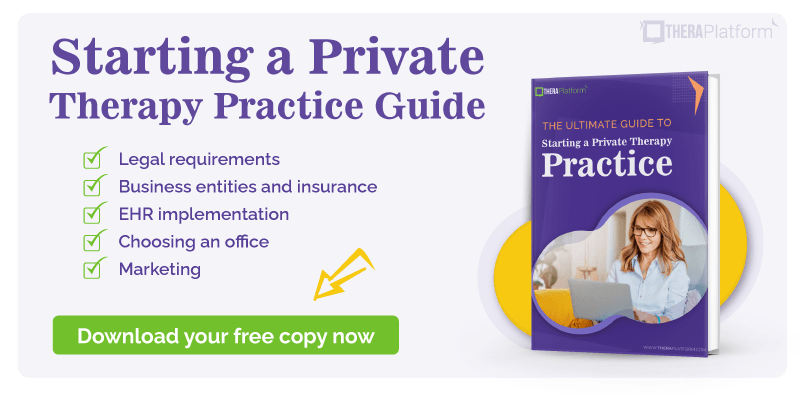 Network
Networking meetings are excellent opportunities to meet with potential referral sources, get your name and message out there, and even find potential clients. You may also meet other professionals to whom you can refer your clients, pair with for special projects, or services you can use.
Follow-up with other providers your clients see 
Physicians, chiropractors, and other specialists serve as excellent referral sources to build your practice. Sending these providers treatment summaries and discharge summaries helps to let these providers know what you do and that you provide excellent treatment to their patients. Make sure to obtain a release of information from your clients before sending any documentation and make sure the summaries you send are printed on your letterhead with contact information for your office.
Online directories
Creating a profile in an online directory for counseling can help you to attract new clients to your practice. Take the time to carefully write your profile to include your niche, a call to action, and how clients can benefit from your services. You may want to review other provider profiles in your area for example (good and bad) profiles of your competitors.
Improve your rankings on search engines
As you improve your search engine rankings, clients will find you more easily. Learning search engine optimization (SEO) can seem like a foreign concept if you have never studied it. It can help to take classes, read blogs, or outsource it (if your budget allows). SEO can present as a mystery to even the specialists in the area so keep learning and applying what you learn to improve your rankings.
Write a blog
Writing a blog not only helps your clients and potential clients learn more about your topic, but it improves your SEO rankings. Writing a blog consistently using important keywords can certainly help attract new visitors to your website, help present you as an expert in your field, and provide another opportunity to share your expertise with clients.
Offer teletherapy
While some clients prefer in-office visits, research shows a growing demand for providers who offer telehealth as part of their services. Teletherapy helps decrease cancellations and no-shows for existing clients and allows practitioners to expand their service area beyond the local geographic market. 
Talk, talk, talk
The more people who know about your practice and what you do, the more people know to send you referrals. When you are out in your community, let people know what you do. Get active in your community and share your message with people. You never know who you could meet or who you already know that could become a referral source or benefit from your services.
Podcasts: Listen, be a guest or make your own
Search and find podcasts to help you learn more about how to get more therapy clients, your niche, and private practice. You can find a wealth of knowledge to help you grow your practice, manage it, and treat your clients. 
Most podcast hosts actively seek guests to interview. You can contact a host related to your niche and offer to be interviewed or serve as a guest in exchange for linking to your practice website in the show notes. 
As podcasts have grown in popularity, it has become easier to start your own podcast. You can speak directly to your target niche in your podcast and build your credibility and referral base. 
Conferences and workshops
Conferences and workshops serve as excellent opportunities to network with other professionals to learn how to get more therapy clients. Consider attending events with other mental health providers as well as some related to your niche where you might meet professionals from other service industries (ex.: physicians, attorneys, administrators, and non-profit directors.) Speaking at a conference is an excellent opportunity to place you as an expert on a topic and bring in new referrals.
Review your rates
Earning more money per session will certainly help to scale your practice. If you accept insurance, review the rates the plans pay you. You can contact the provider relations departments with the insurance plans and request an increase. Sometimes you will get it! Do not be afraid to discontinue accepting insurance plans that pay below market rate. If you do not accept insurance, then maybe it is time to increase your rates. If you do, make sure to give your clients notice before increasing your rates.
Consider passive income opportunities
There are many ways a therapist can earn passive income (money earned outside of therapy sessions).
Some ideas to consider include when thinking about how to get more therapy clients:
Affiliate marketing
Writing a book
Online or digital courses
Creating a workbook
Start 30-day Free Trial and explore TheraPlatform. HIPAA Compliant Video and Practice Management Software for Therapists.
Build a group practice
As you fine tune how to get more therapy clients, you may notice that you need a waiting list or are turning away referrals. In that case, consider building a group practice. With a group practice, you can service more clients and earn money from the other therapists in the practice. Of course, there is a lot to learn about building and running a successful group practice so make sure to do your homework.
Therapists that successfully learn how to get more therapy clients can scale a private practice and earn a significant income while helping people. If these ideas sound like something you would like to explore, then take the time to research, plan, and set goals for yourself to scale your practice.
Resources
Practice management software, like TheraPlatform, can ease the administrative tasks of running your practice like scheduling, documentation and billing, allowing you to spend more time meeting with and helping clients. You want to partner with a software that can also help you automate administrative tasks (such as appointment reminders, invoice creation, credit card payment and others as you learn how to get more therapy clients. TheraPlatform also offers risk-free, 30-day trial with no credit card required. Cancel anytime.
More resources