Therapist confidentiality is sacred in psychotherapy. Without it, there is no degree of trust between the client and therapist. The rules regarding the use of confidentiality are varied and have exceptions. It is important to learn about therapist confidentiality if you practice at any level.
What Is therapist confidentiality?
Therapist confidentiality is a guiding principle of the therapeutic relationship. The code of ethics for the various counseling professions discusses confidentiality in similar terms. Confidentiality assures that what the client shares with the therapist during sessions remains private between the client and the therapist. Therapist confidentiality also applies to the client identifying information such as a name, diagnosis, and appointment times.
When does a therapist need to break confidentiality?
On some occasions, a therapist may need to break confidentiality. Breaking confidentiality refers to times when a therapist shares private client information without the consent of the client. Guidelines may vary from state to state, so please check with your state laws and licensure board regarding state-specific laws and policies related to therapist confidentiality.
Some of the common situations where a therapist would need to break confidentiality include:
Abuse and neglect of children: When a therapist suspects, or knows about abuse or neglect of a minor, then the therapist must report the abuse to the child protective services agency of their state. The therapist should make the report as soon as possible and document the information in the client's record.
Abuse and neglect of the elderly or dependent adults: Laws and definitions of abuse and neglect of older adults and dependent adults differ by each state. As a therapist, if you suspect or know of abuse towards an elderly or dependent adult, then you need to report it to the adult protective agency in your state.
Threats to others: If a client makes a threat to harm another person, the therapist needs to report the threat to the appropriate law enforcement agency as well as warn the target of the threat. The laws differ in each state regarding when a therapist needs to report the threat. Different states have created laws based on how imminent, general or specific the threat is. When a therapist exercises their duty to protect, they must alert the potential victim, the people close to the victim, and/or inform local law enforcement.
Threat to self: Maybe somewhat surprisingly, the therapist has more of a choice whether to break confidentiality over a client's threat of self-harm. Therapists need to consider many variables when they decide whether to break confidentiality in cases of self-harm. Many clients report feeling suicidal at times but may not act on those impulses. Clients need to express intent and a specific plan before a therapist should consider breaking confidentiality.
Court orders: Almost no therapist wants to testify or give over their records to a court proceeding. However, if a judge orders that a therapist must provide a client's information then they must do so or risk legal consequences.
Professional misconduct: Most states require therapists to report the misconduct of other helping professionals. For example, if your client tells you they are having sex with their psychiatrist, you will likely need to report this misconduct to their licensing board.
National security investigations: If a federal agency contacts you regarding a matter of national security, you are mandated to turn over client information to federal agencies for the purpose of a national security investigation. In this type of matter, you may not inform your client of this breach of confidentiality.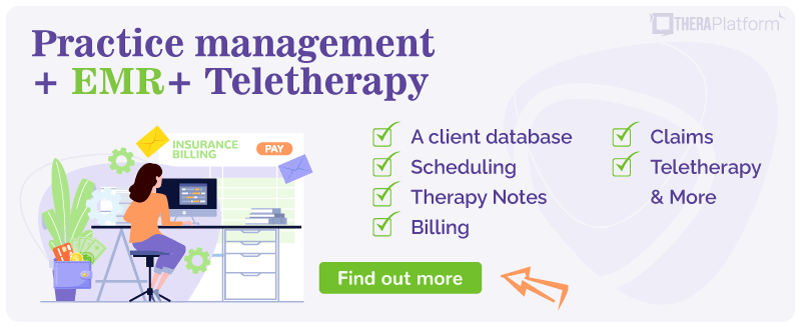 How do laws vary by state
Knowing the state-specific laws in each state where you are licensed to practice is an essential part of adhering to your ethical and legal standards in terms of therapist confidentiality. Not only will this awareness protect you as a therapist but you can also protect your client's rights.
The greatest difference among state laws is in the language:
Mandatory reporting vs. permission to report

Civil or criminal liability for the therapist when failing to report

Legal risk for breaching confidentiality when not legally permitted
The National Conference of State Legislatures has a guide you can review which outlines some of the laws and policies for each state.
Ethical standards around therapist confidentiality
In addition to state laws, therapists have ethical standards that direct our practice. The various professional associations discuss therapist confidentiality in their codes of ethics. While the codes of ethics serve as a foundation for how you practice, keep in mind that federal and state laws also direct you regarding therapist confidentiality.
It is important to follow the guidelines for your professional code of ethics regarding therapist confidentiality:
American Mental Health Counselors Association, AMHCA
How to talk to clients about confidentiality
Some clients coming into your office may understand therapist confidentiality and others may not know anything about it. Because of the importance of confidentiality in the relationship with your clients, you should address it as part of your intake process both in writing and with your policies and as part of a discussion in your initial session.
If your practice is a HIPAA entity, then your Notice of Privacy Practices should specify information regarding therapist confidentiality in your practice. If your practice does not need a Notice of Privacy Practices, then you can include another type of confidentiality agreement or written notice to share this information.
Not all clients will read or understand your written notices. Therefore, during your first session, you should discuss all relevant information that you want to make sure your clients understand, including therapist confidentiality. Depending on the age and functioning of your client, you should break down your confidentiality policies as simply and clearly as possible. You can provide reassurance to your client that you will only break confidentiality when dictated by your ethics and the law.
Start 30-day Free Trial and explore TheraPlatform. HIPAA Compliant Video and Practice Management Software for Therapists.
When you have to break confidentiality
The time may come in your practice when you are faced with the need to break confidentiality. It can be a difficult time for a therapist.
Some important things to consider when you do break therapist confidentiality include:
Only provide the needed information to the appropriate people (ex: law enforcement, child protective services, adult protective services, 911).

Only give the minimum necessary information related to the specific and presenting situation (ex: actively suicidal now vs. a long client history).

Discuss the breach, when legally allowed, with your client.

Carefully document appropriately the breach in your client record. Include any relevant information such as identification numbers of those who took an abuse report, badge numbers, etc.

Clinically address the breach and any impact on the therapeutic relationship immediately with the next session with the client.
If the situation arises that you need to break therapist confidentiality, consider reaching out to a resource before you make a contact. You can consider consulting a colleague, calling your liability insurance, contacting your state professional association, or contacting an attorney who specializes in this area. If you do consult a resource, make sure to document this consultation in the client record. Include the name, date, and time of the consult as well as what you discussed.
Tips for maintaining confidentiality in your practice
Your office and practice setting should establish confidentiality guidelines with the very first client contact. If you have a fully virtual practice, you need to protect the confidentiality of your client just the same as with a face-to-face client.
Client records
Keep paper records locked in a secure location

Do not keep client charts, records, documents, etc. sitting on a desk where other clients or unnecessary people would see the information

Consider using a secure electronic health record (EHR) to decrease paperwork, documents, and other record-related information from being exposed or seen by others.
Protection in the office
Do not use a "sign-in" sheet where clients sign their names when arriving at the office

Do not allow any staff members to have any conversations (including telephone) related to client information, appointments, or billing where anyone else could overhear the conversation

Do not greet clients by their names

Do not accept payments from clients in a public part of the office

Try to keep your office as soundproof as possible. Sound machines, soft music, and water fountains can help to muffle the sounds from therapy sessions to the rest of the office. If your practice is virtual, use a headset so that no one else can hear the client speaking to you.
Technology
All computers, fax machines, and other technology devices should be located in private locations within the office.
If your computer is in the same office where you see clients, make sure that the screen is turned off during your sessions so that no other client information is exposed during a session.
When you complete documentation in a location other than your private office, make sure that no one else can see the screen.
Confidentiality is a very important and daunting part of a therapy practice. You can, and should, continually educate yourself on this area and any changes in your state. It is necessary to remain updated and aware of the ethical and legal guidelines to best protect the rights of your clients as well as yourself and your practice.

TheraPlatform, an all-in-one EHR, practice management and teletherapy tool was built for therapists to help them save time on admin tasks.
Sources
American Psychological Association. "Confidentiality." APA Dictionary of Psychology. Accessed December 12, 2022.
National Conference of State Legislatures. "Mental Health Professionals' Duty to Warn." March 16. 2022. Accessed December 12, 2022.
More resources
Free video classes