Telepractice&nbsp
Telepractice and the shortage of speech pathologists

According to the School Board News, schools all over the United States are experiencing severe shortages of speech pathologists. Public schools struggle not only with new hires but also with retention of current speech pathologists. There are more and more speech pathologists leaving school settings due to high caseloads and excessive non-therapy work.
According to the U.S. Department of Labor's Bureau of Labor Statistics (BLS), which monitors the supply and demand for more than 800 occupations, in occupational projection estimates for 2004–2014, speech-language pathology ranked 17th out of the 20 large-growth occupations that usually require a master's, doctoral or first-professional degree. The profession is expected to demonstrate average growth (reflecting an increase of 7% to 13%) through the year 2016. By 2012, there are expected to be 59,000 unfilled positions.
In addition, there are not enough younger speech pathologists to replace those who are ready to retire. It is estimated that approximately 50% of speech pathologists, age 45 and older, will retire over the next 15 years.
The shortage of speech pathologists will continue to grow not only because there are not enough graduates, but also because the number of children diagnosed with communicative disorders will continue to increase.
The National Association of State Directors of Special Education (2003) reported that the number of disabled students is growing at a rate almost three times greater than the overall student population.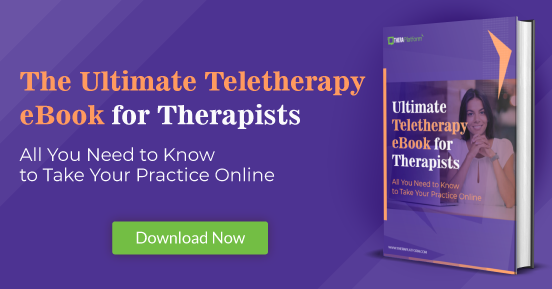 The American Speech-Language-Hearing Association (ASHA) has estimated that by 2025, there will be approximately 9.7 million Hispanic American children with some type of communication disorder.
Moreover, children and schools that suffer the most shortages of speech pathologists are located in rural or remote geographic locations. According to a 2008 ASHA survey, the largest needs are found in the Pacific and mountain regions. Some rural schools note that they are lucky if they have one applicant a year.
Start 30-day Free Trial and explore TheraPlatform. HIPAA Compliant Video and Practice Management Software for Therapists.
Given the severe shortage of speech pathologists, telepractice is rapidly becoming not only an alternative method of delivery but the ultimate solution for schools, which for years could not supply their students with speech services (ASHA 2010).
Kentucky, Maine, Minnesota, Ohio and West Virginia are among the states that have already turned to telepractice.